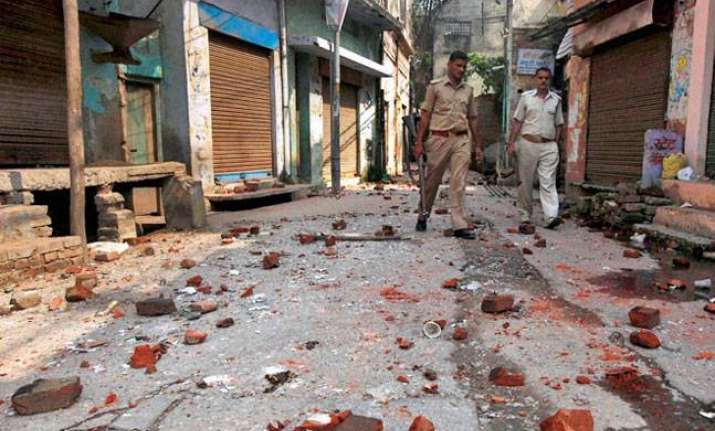 Lucknow: An association of top Indian Police Service (IPS) officers in Uttar Pradesh have rejected the findings of the one-man commission set up by the government to probe the Muzaffarnagar riots. The report exonerated politicians across parties from responsibility while holding former SSP Subhash Dubey responsible for the violence that killed 63 people and rendered over 55,000 homeless.
The Justice Vishnu Sahay commission exonerated all politicos from any involvement in the riots and blamed the senior official for the riots. The IPS Officiers' Association in the state has flayed the report's findings saying Dubey was being made a scapegoat and that he was in charge of the district for just 12 days.
Moreover, the association alleged that Dubey had given a 27-page testimony, of which not a single line was included in the final report.
Secretary of the Association, Inspector General Prakash D has confirmed that they did not agree with the Sahay Commission report. Ssenior police officials also alleged the state government was trying to "find a scapegoat" in Dubey and hence he has been picked up while three other district police chiefs were spared where the riots had also taken place.
Office bearers of the association said that targeting a selected official for such large scale violence was not justified.
The stage unit of the BJP too castigated the Samajwadi Party for shirking responsibility over the riots. "Could such large scale violence be due to the failure of one person?" questioned BJP spokesman Vijay Bahadur Pathak, adding that every attempt of the ruling government to shirk its role in the 2013 riots would not succeed.
Meanwhile, the IPS Association has also defended the then Local Intelligence Unit (LIU) inspector Prabal Pratap Singh who was indicted for lapses that allegedly led to the riots.
This is the second time in the past few days that police officials have resented some action of the state government. Recently, they pressurised the government for revoking the suspension of Deputy Inspector General (DIG) Lucknow D.K. Chowdhary.
(With IANS inputs)