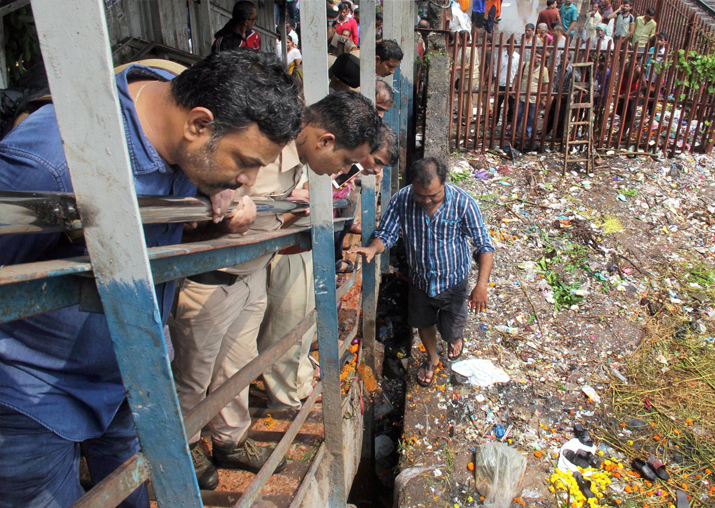 At least 22 people have been killed and 39 others injured in a stampede that broke out at a narrow railway foot over-bridge connecting the Parel-Elphinstone Road stations of Western Railway on Friday morning.
The cause of the stampede was not known, but witnesses claimed that a sudden rumour of a suspected electrical short-circuit sparked off a panic run.
ALSO READ | Elphinstone Station Stampede in Mumbai: Why it happened |
Mumbai Stampede Helpline numbers: Churchgate station- 22039840, Mumbai Central station- 23051665 and Elphinstone Road station- 24301614
Meanwhile, President Ram Nath Kovind and Prime Minister Narendra Modi have expressed condolences to the bereaved families.
As it happened:
5:45pm: One additional foot overbridge already sanctioned for Mumbai's Elphinstone Station, tender floated; Rs 9.5Cr sanctioned by Rly Min: Railway Official
# The stampede on the foot overbridge at Elphinstone Road railway station is a apublic massacre of the people by the government: Shiv Sena MP Sanjay Raut
# Congress president Sonia Gandhi has expressed shock and anguish at the stampede. Wishes early recovery to the injured and conveys heartfelt condolences to the family of the deceased. She has also termed the tragedy as a man-made disaster and expressed concern over Rail safety. "Such accidents could have been avoided had there been proper planning and concern for safety."
03:40pm - Here is list of those who died in this stampede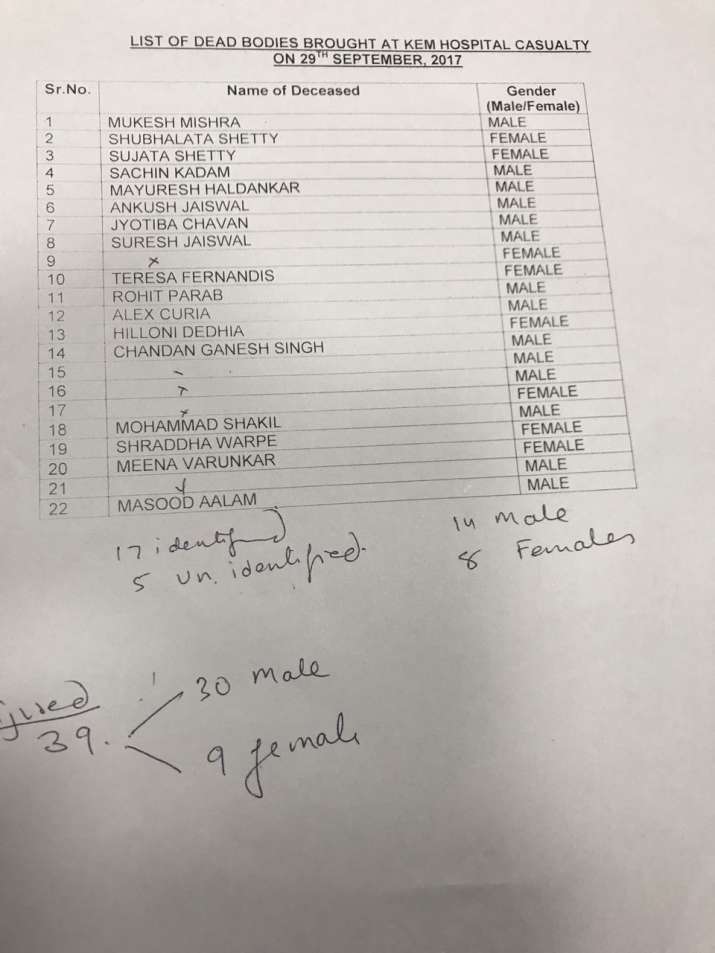 03:18 pm: Ex-gratia of Rs 5 lakh to be given by the state goverment and Rs 5 lakh by the Railways to the families of the deceased people, says Railway Minister Piyush Goyal
03:15 pm: Wherever there is a need for foot over bridges to be widened, we will do it immediately on high priority: Piyush Goyal
Have also issued directions for safety & capacity audit of foot over bridges in Mumbai where there is congestion:Piyush Goyal,Railway Min pic.twitter.com/wPUiLaJlT0

— ANI (@ANI) September 29, 2017
02:45 pm: "Our heartfelt condolence to the families of the deceased in the Elphinstone Station stampede. We hope the injured recover at the earliest, Mumbai Police tweeted.
Mumbai: Railway Minister Piyush Goyal & Maharashtra Minister Vinod Tawde reach KEM Hospital #MumbaiStampede pic.twitter.com/u7DHYzvTtc

— ANI (@ANI) September 29, 2017
01:32 pm: Inquiry will be conducted by Maharashtra Government and Railways Ministry and strict action will be taken, says CM Devendra Fadnavis
Overcrowding lead to stampede. 22 bodies recovered so far, 30 ppl injured: Additional Commissioner of Police, Central Region #MumbaiStampede pic.twitter.com/vd0xUMziwq

— ANI (@ANI) September 29, 2017
01:31 pm: Have ordered a high-level inquiry headed by the Chief Safety Officer, Western Railways, says Railway Minister Piyush Goyal
01:29 pm: Just landed in Mumbai. Deeply grieved at tragic loss of innocent lives due to unfortunate stampede: Railway Minister Piyush Goyal
01:28 pm: Railway Minister Piyush Goyal has cancelled his programme.
Compensation of 5 Lakhs each will be given to kin of those dead.State Govt will bear medical expenses of injured: Vinod Tawde,MH minister pic.twitter.com/vxMGF820m4

— ANI (@ANI) September 29, 2017
01:10 pm: My deepest condolences to all those who have lost their lives due to the stampede in Mumbai. Prayers with those who are injured, says PM Narendra Modi
01:08 pm: Situation in Mumbai is being continuously monitored. Piyush Goyal is in Mumbai taking stock of the situation and ensuring all assistance.
12:50 pm: Anguished by the loss of lives in the stampede in Mumbai. Condolences to the bereaved families; prayers with injured: President Kovind
#NDRF team reaches the site of #MumbaiStampede; 22 people have lost their lives so far. 27 injured #Elphinstone pic.twitter.com/9bE1os6wa6

— ANI (@ANI) September 29, 2017
12:47 pm: Mumbai Mayor Vishwanath Mahadeshwar, who visited the scene, said it was the responsibility of the Western Railway authorities to ensure commuters' safety.
12:34 pm: Death of 22 people have been confirmed and 27 have been injured, says Railways DG PR Anil Saxena.
12:20 pm: Railway Minister Piyush Goyal is expected to visit site of the stampede.
11:58 am: The BrihanMumbai Municipal Corporation (BMC) has blamed Indian Railways for the incident. 
11:50 am: The stampede took place at around 10.40 am at a foot over bridge of the railway station. According to some reports, a rumour of the foot-over bridge falling led to panic.
11:43 am: At least 24 others were injured, six of them critically, and casualty figures could rise, the BrihanMumbai Municipal Corporation (BMC) Disaster Control said.
.@RailMinIndia @WesternRly this is parel / elphinston bridge. We heard People died due to stampede ? Good returns of my tax! @narendramodi pic.twitter.com/Yj0tySttCo

— Chirag Joshi (@chiragmjoshi) September 29, 2017
11:31 am: The bridge was already overcrowded owing to sudden heavy rains that lashed the city on Friday and many commuters had taken shelter there.
11:30 am: GRP Commissioner Niket Kaushik said of the injured 20 people have serious injuries, rest have minor injuries. The injured have been rushed to nearby Kem Hospital.
11:27 am: Before the rescue teams arrived, cab drivers and others helped shift the injured in taxis and on two-wheelers.
11:22 am: The stampede occured on the over bridge connecting Parel and Elphinstone Road Stations in Mumbai during rush hour.
Mumbai: Stampede at Elphinstone railway station's foot over bridge. More than 20 people injured. More details awaited

— ANI (@ANI) September 29, 2017
11:10 am: Though the exact cause of stampede is not yet known but chances are that heavy rains and festive rush in Mumbai might have triggered it.