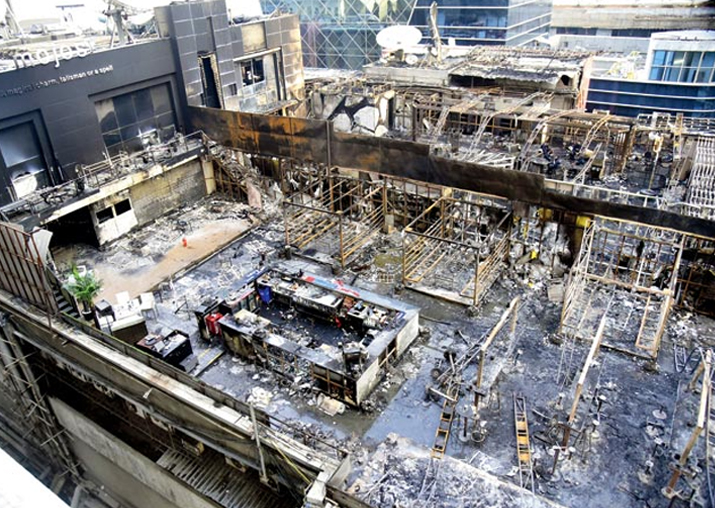 Mumbai Police today said that the owners of Mojo's Bistro pub were booked for culpable homicide in connection with the deadly fire that killed 14 people.
The development comes a day after a preliminary investigation report by the Mumbai fire brigade revealed that fire began in Mojo's Bistro and not in 1Above pub. The report stated that flying embers from illegal hookah being served at Mojo's Bistro was the probable cause of the massive fire.
"On basis of the report by the fire bridge, we have booked owners of Mojo's Bistro pub for culpable homicide," Deputy Commissioner of Police and spokesperson of Mumbai Police Sachin Patil said. 
A senior police official gave the names of Mojo's Bistro pub owners as Yug K Pathak and Nagpur-based businessman Yug Tulli. The official added that Yug Pathak's statement was recorded last week.
Additional Commissioner of Police (Central Region) S Jaykumar said the owners were booked under IPC sections 304 (culpable homicide not amounting to murder), 337 (causing hurt 
by act endangering life or personal safety of others), 338 (causing grievous hurt by act endangering life or personal safety of others) and 34 (acts done by several persons in furtherance of common intention) in the same case registered on December 29. 
The fire brigade report said that blaze probably started at Mojo's and spread to the adjacent rooftop pub "1 Above", the report indicates. Most of the victims were trapped in the toilet of the pub and died of suffocation, the police had said earlier. 
The report has clarified that none of the two restaurants -- Mojo's and 1 Above -- had permissions to serve liquor and hookah but still they served them. 
Although there was an emergency exit, the pub staff seemed to be unaware of it, it said, adding that beer kegs near the exit path also blocked the escape and the kegs eventually exploded and escalated the fire.
Use of bamboo and cloth to make the roof led to the quick spreading of the fire, while wind velocity and direction were the major contributors too.
Earlier, the police had booked owners of '1 Above' pub, Hitesh Sanghvi and Jigar Sanghvi, co-owner Abhijeet Manka and others on various charges, including culpable homicide not amounting to murder.