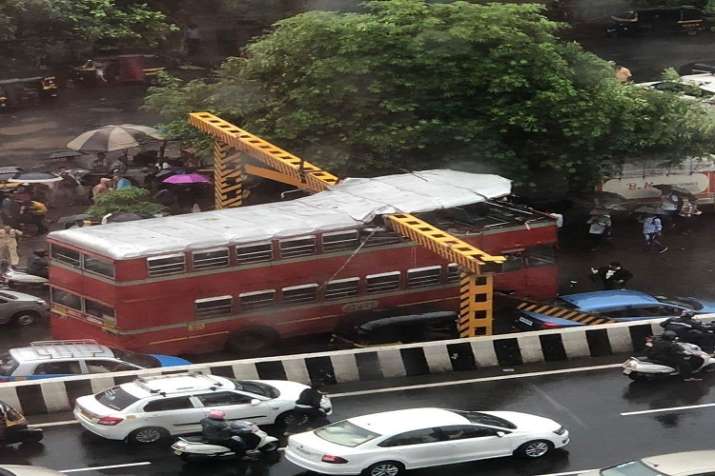 A BEST double decker bus crashed into an overhead railing near Kalina University in Mumbai's Santacruz area on Tuesday.
According to reports, the double-decker bus was from heading to Santacruz's Kalina area from Bandra. The incident took place after the bus hit the overhead guardrail near Kalina University. After the incident, parts of the bus have been damaged and no casualties have been reported so far.
Earlier today, part of a foot overbridge (FOB) at Mumbai's suburban Andheri railway station collapsed. The incident brought train services to a halt and caused heavy traffic in the suburbs. According to latest reports, five people were injured although no one has been trapped under the debris.
ALSO READ| Mumbai LIVE: Part of overbridge collapses in Andheri, 5 injured; local train services hit
Meanwhile, the BEST bus services have decided to operate additional 84 bus services all across the city to clear the traffic rush.
The Indian Meteorological Department on Tuesday predicted heavy rainfall over the next 48 hours in Mumbai. The city has seen incessant rainfall since Monday night to Tuesday early morning after the intensity of rainfall increased from evening onwards. "Heavy rain is expected to continue for Mumbai and surrounding areas for 48 hours (from Tuesday morning)," IMD's deputy director general (western region) K.S. Hosalikar has said.  According to weather department's bulletin, intermittent rain or thundershowers are likely to occur in the city and its suburbs for the next 24 hours.
WATCH VIDEO: