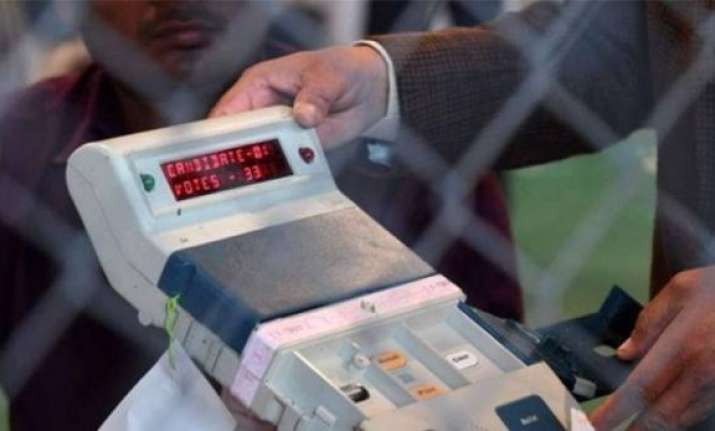 Amid ongoing row over DUSU elections, Election Commission of India issued a clarification on Friday saying that multi-post EVMs were used in the polls, contrary to commission's single post EVMs. 
In a statement released today, EC said: "ECI is not responsible for conduct of local body elections that are conducted by the State Election Commissions and elections held by various organisations/institutions and consequently about various protocols and procedures adopted by them."
"Commission is confident and has firm conviction about the integrity, non-tamperability and credibility of ECI-EVMs. Basis of confidence flows from a wide range of technical and administrative protocols and procedural safeguards that protects our EVMs and VVPATs against any sort of tampering."
"Commission uses only single post EVMs. In DUSU polls it is told that multi-post EVMs (i.e. vote can be cast for more than one post for instance President/Vice-President/General Secretary), which are technically completely different from ECI's single post EVMs, have been used," it said. 
The Congress on Friday alleged tampering with the electronic voting machines (EVMs) used in the Delhi University Students' Union (DUSU) polls and demanded that the election be held again with paper ballots and the counting of votes under CCTV surveillance.
Delhi Congress chief Ajay Maken had said the party was also considering the legal options to get the polls countermanded after the National Students' Union of India (NSUI), the students' wing of the party, bagged just one of the four DUSU posts and the rest went to the Akhil Bharatiya Vidyarthi Parishad (ABVP), the students' wing of the Rashtriya Swayamsevak Sangh (RSS). 
Earlier on September 13, the office of the Chief Electoral Officer in Delhi too had clarified that the EVMs used in Delhi University Students Union (DUSU) election have not been issued by the Election Commission and it seems to have been procured privately.
The statement came after the counting for DUSU polls was suspended midway on Thursday due to "faulty EVMs and the students' uproar over it".
The counting was initially stopped for an hour when there were allegations of faulty EVMs. However, following objections by students, the election officials decided to suspend the counting. But later it resumed.