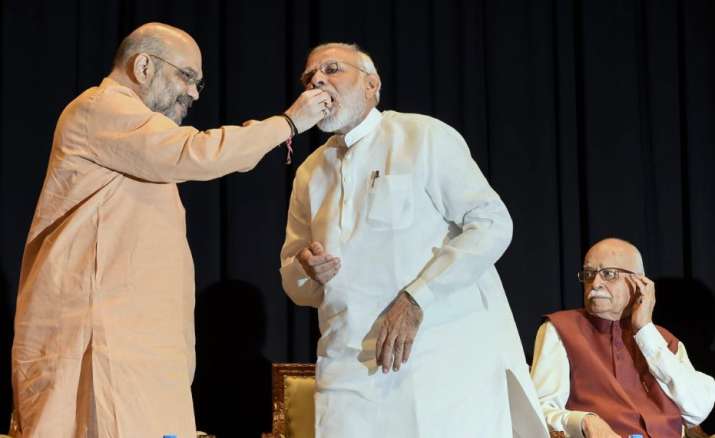 Prime Minister Narendra Modi was facilitated with laddoos (sweets) at the Bharatiya Janata Party's first parliamentary party meet since the no-confidence motion. 
The BJP parliamentary party felicitated the prime minister for recording a convincing victory against the united opposition during the debate on the no-confidence motion and voting.
Party patriach LK Advani, chief Amit Shah, former party president Nitin Gadkari and External Affairs Minister Sushma Swaraj praised Modi's 'stellar leadership' and his speech in response to day-long debate. 
In his response, PM Modi said felicitation should have been for all party MPs and not his alone. But he made opportune use of the occasion to castigate Congress and other opposition parties for bringing the no-trust motion.
"Na hamare khilaf sankhya ki kami thi, na mahol tha (The Opposition members neither had numbers on their side nor the political atmosphere or mood was against the government)," he said.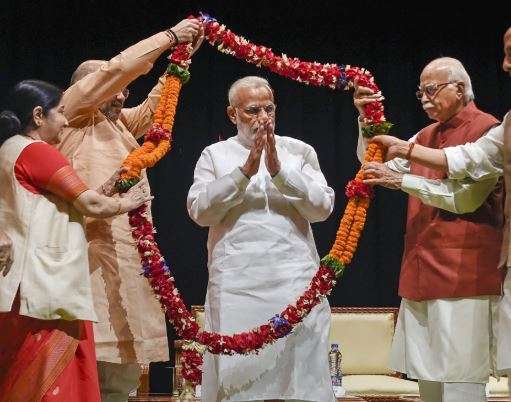 At the meeting, PM Modi said the motion brought by the opposition underscored its political immaturity and lack of understanding and substance.
BJP sources told PTI that Amit Shah, at the meeting, targeted the Opposition, saying such a motion is brought when a government loses its majority or there is unrest in the country, but there was no reason for it to sponsor such a move, which was comprehensively defeated with 326 members voting against it and only 126 supporting. 
In his brief speech, Shah said that, in fact, the saffron party and the NDA should be "grateful" to the opposition parties to give such an opportunity to highlight the achievements and series of pro-poor measures undertaken by the Modi government since 2014.
Unlike other BJP parliamentary party meetings, seven chairs were placed at the stage for Tuesday's deliberations wherein top leaders PM Modi, Shah, Advani, Home Minister Rajnath Singh, Gadkari, Swaraj and Parliamentary Affairs Minister Ananth Kumar were seated.
Various important draft legislation like the one seeking to ensure more stringent punishment for rape accused has been passed in Lok Sabha.
The government also intends to push Triple Talaq Bill and a bill to grant constitutional status to the OBC Commission in the Rajya Sabha.
(With inputs from agencies)