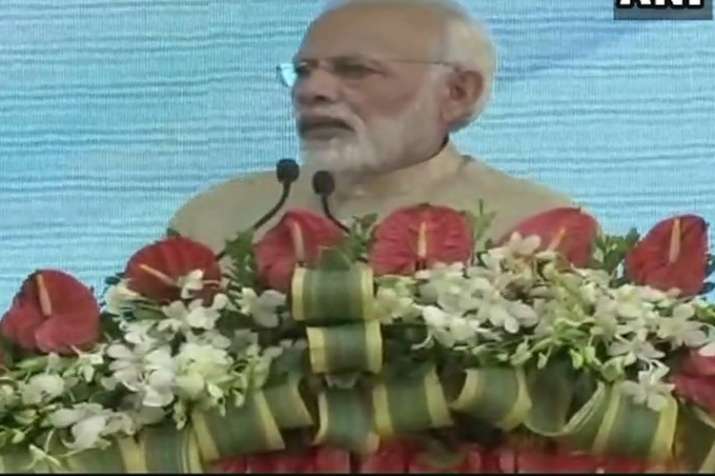 Prime Minister Narendra Modi, who is on a two-day visit to Gujarat, flagged off the Antyodaya Express which will run between Udhna in Gujarat to Jaynagar in Bihar. Interestingly, he flagged off the train via a video link.
Before addressing a public rally in Bharuch, he also laid the foundation stone of a barrage over the Narmada river.  
Earlier in the day, PM Modi received an enthusiastic welcome from thousands gathered to greet him on his visit to his hometown Vadnagar on Sunday
Here are the highlights: 
3:20 pm: We cannot imagine Bharuch, or even Gujarat, without the river Narmada, says PM Modi
​3:14 pm: Gujarat's strides in animal husbandry have helped farmers. I told UP CM Yogi Adityanath to send a team to Gujarat and study the Pashu Arogya Melas. They did that and organised a similar one in Varanasi, which I had the opportunity to visit & see how it helped farmers: PM
3:10 pm: Neem coating of urea helped farmers and stopped corruption as well as theft: PM
3:07 pm: Chahe desh ko lootne wale kitne bhi khade ho jaaye, imaandari hi jeetegi: PM Modi in Bharuch, Gujarat.
3:05 pm: We decided that 100% neem coating of urea has to be done so that it can only be used in farming & not in chemical factories: PM Modi
​3:03 pm: Antyodaya Express is a commendable initiative by Railways, will makes it easier for people from UP & Bihar to go home for Chhath Puja: PM
3:00 pm: 
Bharuch, Gujarat: PM Modi lays foundation stone of a barrage over Narmada River. pic.twitter.com/Ip4aCT1VTf

— ANI (@ANI) October 8, 2017
2:58 pm: 
Bharuch: PM Modi flags of Antyodaya Express between Udhna in Surat and Jaynagar in Bihar. (Visual of Antyodaya Express from Surat) pic.twitter.com/6qFxIPyvKg

— ANI (@ANI) October 8, 2017