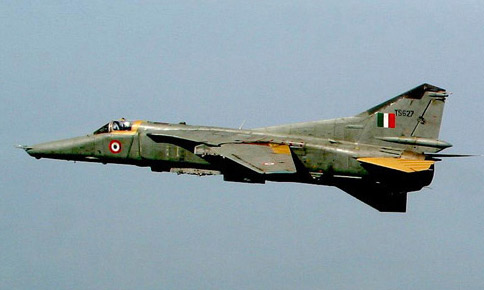 A MIG-27 fighter aircraft of the Indian Air Force crashed in Eta village in Pokaran tehsil of Rajasthan's Jaisalmer district, a defence official said. The pilot ejected safely, Defence spokesperson Col Sombit Ghosh said.
"A MIG 27 aircraft airborne from Jaisalmer crashed during a routine mission today evening. Pilot ejected safely. A Court of Inquiry will investigate the cause of the accident," Ghosh said.
Jaisalmer SP Kiran Kang said no casualty has been reported so far, and a police team is in touch with Air Force officials. She said a police team rushed to the spot.
Earlier this month, a Mirage-2000 trainer aircraft of the Indian Air Force had crashed on February 1 at the Hindustan Aeronautics Limited Airport near Bengaluru killing both the pilots. 
Though the pilots made a bid to eject, they were caught in the flames as the plane crashed with a huge explosion, the official added.
Squadron Leader Samir Abrol and Squadron Leader Siddhartha Negi, both from Aircraft and Systems Testing Establishment, were conducting an acceptance sortie of the newly upgraded Mirage-2000 trainer jet when the incident took place. 
The black box of the Mirage-2000 trainer aircraft has been sent to France's Dassault Aviation, the Original Equipment Manufacturer, for decoding of its data, a senior HAL.
Also read | Bengaluru: Mirage 2000 trainer fighter jet crashes killing both pilots