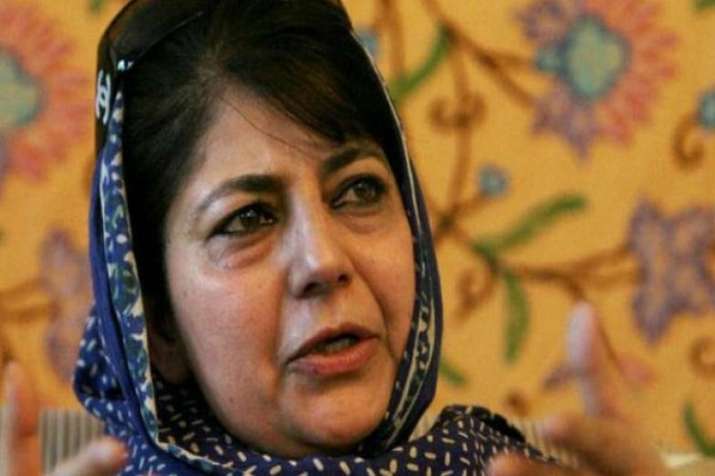 Slamming Former Jammu and Kashmir Chief Minister Mehbooba Mufti for her statement that any attempt by the BJP break her party - PDP - will have dangerous outcome which could see birth of more militants like Salahuddin, Union Minister of Minority Affairs Mukhtar Abbas Naqvi on Friday said that Mehbooba Mufti was 'trying to give oxygen to terrorists' by issuing such remarks.
Mehbooba Mufti has exposed her proximity with separatists by warning that if her Peoples Democratic Party (PDP) was split, it would create more militants in the state, Naqvi said. "Knowing or unknowingly she has only exposed her proximity to separatists," the BJP leader added.
The PDP chief, during a press conference, on Friday morning said that if the central government split her party to form new government in the state, it would create more Salahuddins and Yasin Maliks, who were first to take arms after the 1987 elections were allegedly rigged.
Also Read | 'More Salahuddins will be born': Former Jammu and Kashmir CM Mehbooba Mufti warns Centre against breaking PDP
Reacting to Mufti's statement, BJP's central committee member GVL Narasimha Rao said Mufti's remarks were "very bizzare".
Mufti, he said, "seems under tremendous pressure from her own party. "Is she now equating her party with Hizbul Mujahideen?" he asked.
Former Jammu and Kashmir Deputy Chief Minister and senior state BJP leader Kavinder Gupta said "it is very unfortunate that she (Mufti) was ruling the state only a few days back as Chief Minister and now she threatens of a terror uprising."
Salahuddin, whose real name in Yousuf Shah, contested the election and Malik was his polling agent.
However, it was alleged that the polls were rigged in favour of the National Conference-Congress coalition. Shah ended up heading the Hizbul Mujahideen militant group and Malik launched Jammu and Kashmir Liberation Front.
Watch: Attempts to break PDP will have dangerous results, Mehbooba Mufti warns BJP
​