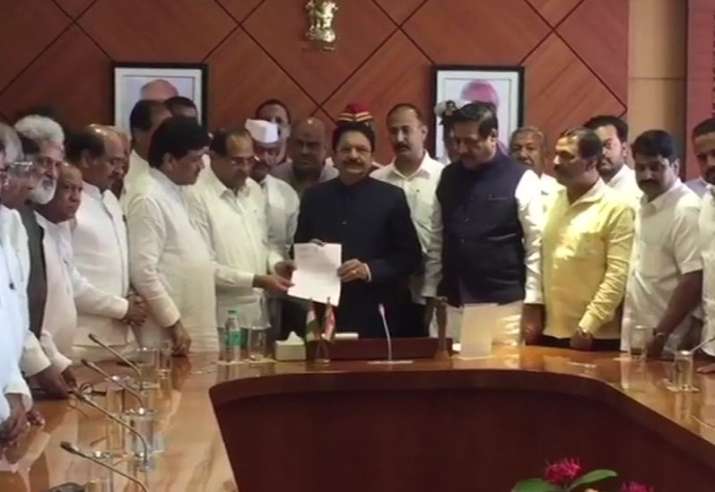 A Congress delegation on Monday met Maharashtra Governor Vidyasagar Rao to submit their letter and  requesting him to intervene in the matter of Maratha Reservation and ask the state government to expedite its efforts for providing 16 per cent reservation to Maratha community. Lashing out at the Devendra Fadnavis government, the Congress party said that the BJP-led government in Maharashtra is "dilly-dallying" on the issue of reservations for the Maratha community in jobs and education.
A delegation led by state Congress chief Ashok Chavan met Rao on Monday afternoon and asked him to instruct the state government to immediately withdraw cases filed against "innocent" agitators during the recent Maratha quota protests.
In a memorandum to the Governor, the party said the government would be to blame if the law and order situation in deteriorates if a decision on the quota issue is not announced immediately.
The delegation included Leader of Opposition in the Assembly Radhakrishna Vikhe-Patil and former Chief Minister Prithviraj Chavan.
"The position of the BJP and the Shiv Sena over quota is vague. Therefore, no concrete decision has been taken on reservations to Marathas, Muslim, Dhangar, Mahadev Koli and Lingayat communities. The government wants to keep these issues pending," the memorandum said.
The Congress charged the government with "hoodwinking" these communities. The absence of any decision has threatened peace and communal harmony in the state, the party said.
Before meeting the Governor, Congress legislators met at Vidhan Bhawan here to discuss the party's strategy on the Maratha quota issue.
Meanwhile, situation in the state have worsened following the issue came to limelight. A man committed suicide in Aurangabad while angry protesters clashed with police in Solapur on Monday. 
The police had to resort to lathi-charge after protesters started stone pelting in Solapur. Over 70 people were taken into custody for participating in violence. In Nandurbar, protesters, who tried to block roads by burning tyres, clashed with police.
The wave of protests by Maratha groups has put the Fadnavis government in a tight spot. While the BJP has been stressing that the state government is committed to honour the demands of the Maratha community, the Opposition has accused CM Fadnavis doing nothing and letting the situation go out of control.