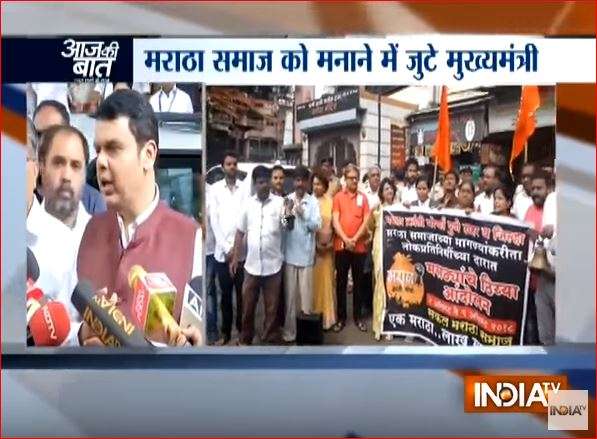 Maratha Kranti Morcha, the umbrella organisation of the Marathas seeking reservations in jobs and educational institutions,  on Thursday announced to launch fresh round of agitation from August 9 in support of their deamands.
The state government has asked the Centre to provide Central forces in view of the proposed agitation by the Marathas.
According to intelligence inputs, efforts can be made to create large-scale violence and disturbance during the agitation on August 9.
The Maharashtra government has informed the Centre that though the state has reserve police force in its possession, it will need additional force for tacking the situation.
Meanwhile, Maharashtra Chief Minister Devendra Fadnavis has intensified efforts to clam down rising tempers in the Maratha community over the quota issue.
Watch: Marathas to launch fresh agitation from August 9 
Fadnavis held meetings with ministers and other representatives from the Maratha community on Thursday to find an amicable solution to the issue.
Many former judges, historians, thinkers and representatives of the film industry participated in the meeting.
The government clarified in the meeting that it is making all efforts to provide reservation to the Maratha community.
The government also said that it is awaiting the report of the backward commission, adding  a special session of the state Assembly will be called after the submission of the report to pave the way for Maratha reservation. 
There were incidents of stone-pelting and arson in many parts of the state as Maratha agitators took to the streets last week.
Four police officials were injured in stone pelting and over sixty vehicles were damaged during a protest at Chakan near Pune on July 30.
Earlier, a bandh called by Maratha outfits in the Mumbai Metropolitan Region had brought the city to a halt, while there were violent protests in neighbouring Navi Mumbai.
(With PTI inputs)