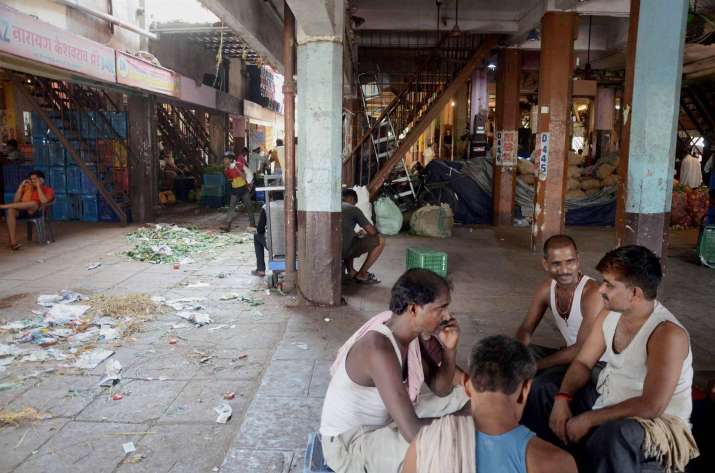 The farmers' strike in Maharashtra entered the second day on Friday hitting supply of vegetables, milk and fruits in the state. Farmers, who have launched an agitation to press for their demands including a loan waiver, blocked trucks carrying supplies on the second consecutive day. Most agricultural produce market committee (APMC) markets wore a desolate look for the second day today.
While the supply in cities like Mumbai, Thane and Pune has not been disrupted yet, traders predict that the supply from production centres across the state would be affected if the strike continued. According to sources in Navi Mumbai APMC, though milk supply to the state capital largely remained unaffected, the number of vehicles transporting vegetables went down in fear of backlash from farmers. 
Mumbaikars may start feeling the pinch due to shortage of vegetables in a day or two while vendors in the suburbs and in Navi Mumbai have already hiked prices. People in Nashik city and the district faced hardships due to shortage of vegetables while most milk kiosks also remained closed.
The farmers have launched the agitation to press various demands including a loan waiver.
The strike, which was marred with violence on Thursday, remained by and large peaceful on Friday despite farmers blocking the road at many places. 
According to sources, many operators refused to transport vegetables to Mumbai fearing protests by farmers while in Nashik district, all the 15 APMC markets remained shut today as no farmers turned up to sell their produce. 
Farmers blocked parts of Mumbai-Agra highway near Nashik. They also tried to stop vehicles carrying vegetables to Pune and Gujarat, police said.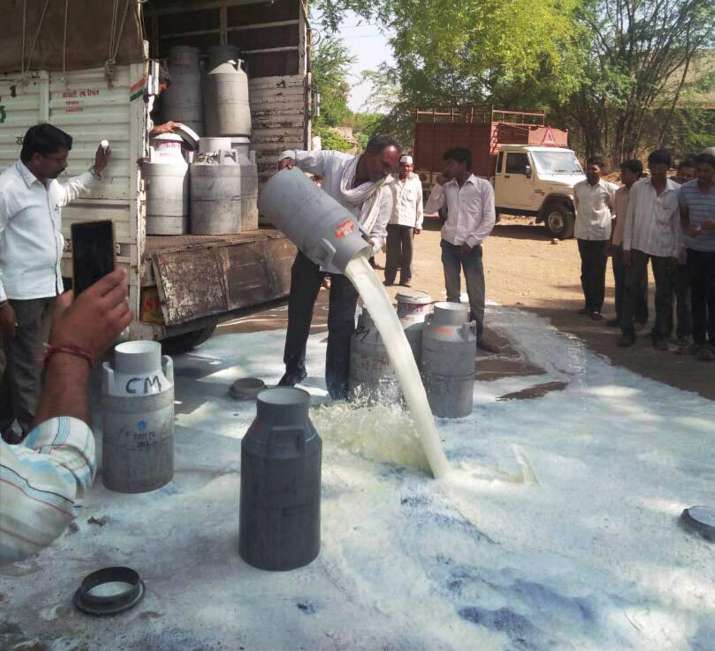 Farmers spilling out milk on a road during their state-wide protest
The agitators also stopped a milk tanker headed towards Gujarat from Nashik at Siddha Pimpri village late last night and emptied it on the road. 
Meanwhile, the curfew imposed in Yeola town, around 70 km from Nashik, remained in force on the second day as well even as the situation was under control since this morning and no untoward incident has been reported so far, police said. 
The curfew was imposed yesterday after 14 policemen were injured in stone pelting and police resorted to firing in the air. 
So far, 50 people have been detained, including some farmers, for their alleged role in yesterday's incidents of stone pelting and ransacking of trucks carrying vegetables and fruits. 
Traders profiteer from strike
As the strike created a shortage of supply across Maharashtra, traders started profiteering by selling products at higher rates. Vegetables and fruits prices in Pune, Nashik and other cities soared by 40 per cent, as the supply came down by half, a Hindustan Times report said. 
Traders in Pune market yard said that supply has been only 10 per cent to what used to be on normal days. Only 125 vehicles, including trucks, tempo and jeep reached the market on Friday morning, traders said, adding that usually, 1,230 vehicles come to the market daily.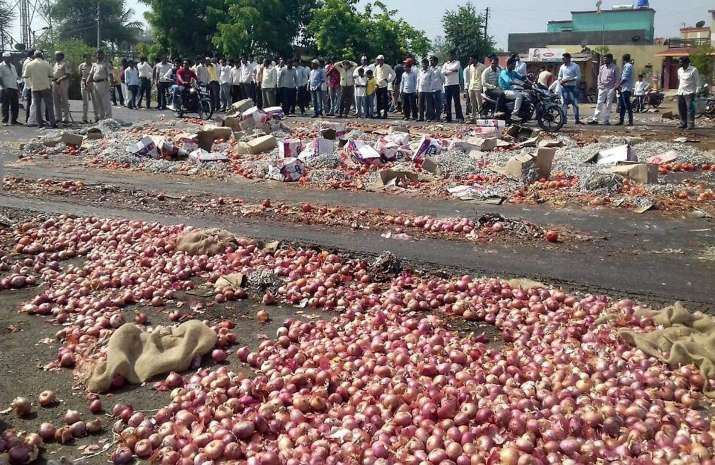 Farmers throwing onions and other vegetables on the road during their state-wide
"The shortage in supply of vegetables and fruits has led to a rise in prices. If the supply remains thin, prices will go up further," said Vilas Bhujbal, wholesale trader of vegetable and fruits.
Farmers' demands
Over half a million farmers across Maharashtra, barring the coastal Konkan, have resorted to an unprecedented strike. 
The farmers are demanding a complete waiver of farm loans, free electricity, appropriate remunerative prices for their produce, grants for irrigation, pension for farmers who are 60 years and above, and implementation of the M.S. Swaminathan Committee recommendations. 
In Nashik, farmers are also opposing the proposed Mumbai-Nagpur 'Samruddhi Corridor' (expressway), which will require acquisition of farmland.
They continued to hold agitation, protest marches and processions at various government and APMC offices to press for their demands even as Maharashtra Chief Minister Devendra Fadnavis said talks with the farmers leaders will continue to hammer out a solution. 
On Thursday, Fadnavis accused the Congress-Nationalist Congress Party combine of allegedly inciting the farmers. 
Can't afford to waive off all farm loans, says Fadnavis
Fadnavis said on Thursday that the government will not be able to waive the loans of all 1.34 crore farmers in the state and can only afford to waive the loans of only 31 lakh farmers who are outside the institutional credit system. 
"It is not possible for the state to waive loans, in full, of all 1.34 crore farmers. For that, the government will have to shell out Rs 1.34 lakh crore, and this is more than the capital expenditure of the state. But, we are considering waiving loans of 31 lakh farmers who have gone out of the institutional credit system because of their unpaid loans. This comes to around Rs30,000 crore and we will spend that money to bring them back into the credit system," Fadnavis was quoted as saying by the Hindustan Times.
He also said the state government will soon be bringing in a law which will make buying produce from farmers at prices lower than the minimum support price a crime. 
"We have also received news that several milk co-operatives have refused to accept milk from farmers. We will be appointing an administrator for these co-operatives if they continue with this practice," he said. 
Anna Hazare backs Maharashtra farmers' strike 
Social activist Anna Hazare extended his support to the strike but urged farmers to carry out their agitation peacefully without causing damage to public or private properties. 
"I support the farmers' cause, but I appeal to them to carry out the agitation peacefully. I am prepared to intervene on their behalf with the government and resolve the issue," Hazare said in a statement.