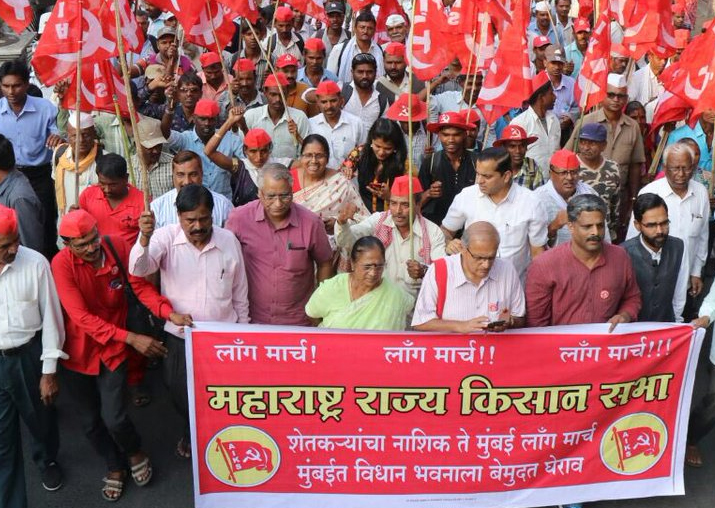 Thousands of farmers today continued their march from Nashik to Mumbai to press for their various demands. Agitating farmers, carrying red flags, were seen today marching towards Mumbai on Nashik-Mumbai highway.
The 180-km-long march is being organised by All India Kisan Sabha (AIKS). It began on March 6 from here and culminate in Mumbai on March 12. 
Farmers are protesting against the Maharashtra government for not accepting their demands, including a complete loan waiver.
According to reports, farmers will gherao the Maharashtra Vidhan Sabha after reaching Mumbai on March 12 for resolution of their issues.
The farmers have been demanding a complete waiver of loans and electricity bills, and the implementation of recommendations of the Swaminathan Commission.
Members of All Indian Kisan Sabha took out a march from Nashik to Mumbai demanding a complete loan waiver for the farmers of State. The march commenced on Tuesday. #Maharashtra pic.twitter.com/zZryxregBG

— ANI (@ANI) March 8, 2018
Speaking to reporters, AIKS secretary Raju Desle accused the Centre and the state government of adopting anti-farmer policies.
He had earlier said that the state government should refrain from forceful acquisition of farm lands in the name of development projects like the super highway and the bullet train.
Last year, the Maharashtra government had announced a conditional farm loan waiver of Rs 34,000 crore following unprecedented protests by farmers in various parts of the state.