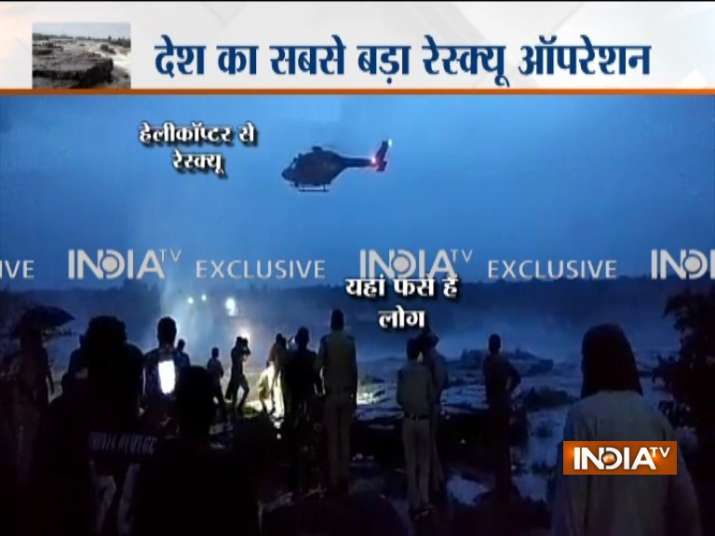 Around 10-12  people were washed away while they were enjoying picnic at Shivpuri waterfall in Madhya Pradesh on Wednesday. The incident took place when a group of people had assembled in the middle of the dry river, which is a popular picnic spot. 
(This is a developing story, last updated on August 16 at 00:10 am)
All of a sudden, there was a huge surge in water level at around 4:30 pm, possibly due to heavy rain upstream, that washed away 10-12 people. The remaining people climbed on three rocks situated there. These people are stranded on these rockssince that time and the rescue team is trying to take them out safely.
34 people are reportedly still stranded at the waterfall. Rescue operations are underway and 7 people have been rescued so far, according to Madhya Pradesh Chief Minister Chouhan. 
Teams of NDRF and SDRF are carrying out rescue operations though they are  facing difficulties in the operation due to darkness in the area.
The state government has sought more helicopters from the defence ministry for rescue operations.
In a tweet, MP Chief Minister Shivraj Singh Chouhan said that rescue team is trying to take out the stranded people using helicopters.
शिवपुरी में वाॅटर फॉल में फंसे लोगों को बचाने के प्रयास जारी हैं। मैं लगातार बचाव दल के संपर्क में हूं। हेलीकॉप्टर की मदद से बचाव दल प्रयासरत है। 7 लोगों को सफलतापूर्वक बचाया जा चुका है।

— Chowkidar Shivraj Singh Chouhan (@ChouhanShivraj) August 15, 2018
Watch: Rescue operations underway to save stranded people in MP waterfall