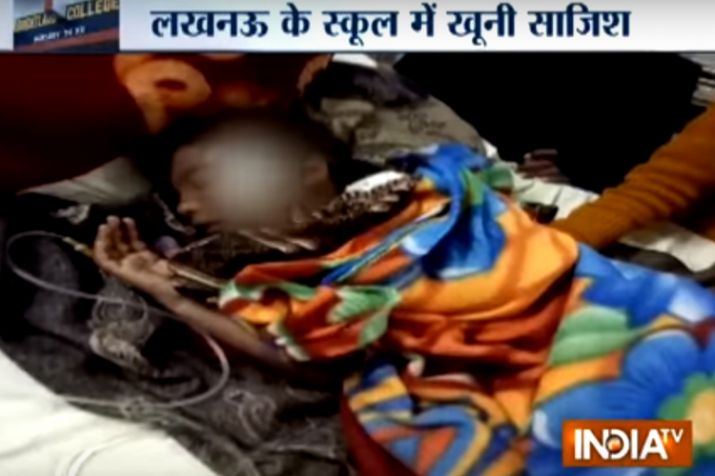 The accused minor in the horrific Lucknow school stabbing case has been sent to Barabanki juvenile reform centre. The class VII student of Lucknow's Brightland School was today produced before the Juvenile Justice Board, which remanded her in the judicial custody for a day and ordered the police to send her to juvenile reform centre in Barabanki.
In a chilling reminder of the murder of class II student Pradyuman Thakur in a Gurgaon school last year, a class 1 boy was allegedly attacked by his senior in school toilet, in a bid to get holiday in the event of the death. 
The boy was stated to be out of danger. The school's principal Rachit Manas was arrested for alleged ignorance in the matter and was later granted bail. 
Meanwhile, Uttar Pradesh Chief Minister Yogi Adityanath visited the trauma centre in Lucknow and talked to doctors, inquiring about the well-being of the victim - six-year-old Ritik.
Senior Superintendent of Police Deepak Kumar said that the knife used by the 11-year-old girl has also been recovered. "The hair recovered from the victim has been sent for forensic examination," Kumar said. 
District Magistrate Kaushal Raj Sharma said that prima facie it appeared that someone might have told the girl that a holiday could be announced by the school authorities only if there was death of any student. "For getting the school closed, the girl attacked Ritik," police said. The incident took place on January 16. 
The victim's father Rajesh had yesterday said, "I was informed by the school that my son is injured. He has been attacked with knife by a girl." 
The boy was rushed to the trauma centre.  Dr Sandeep Tewari, who was treating the boy, said the victim had deep wounds on chest and stomach that "seem to have been inflicted with a knife-like sharp object".  
An FIR was lodged in connection yesterday.  Panic gripped the school a day after the incident took place when other parents came to know about the matter and charged the school administration with trying to hush up the case. 
Taking note of the incident after the picture of the wounded boy went viral on social media and TV channels, District Inspector of Schools (DIoS) Mukesh Kumar Singh issued a notice to the school seeking clarification as to why legal action should not be initiated against it. 
"The school has not provided information to our office regarding the incident after registration of the FIR. A clarification has been sought from the school," Singh said. 
Seven-year-old Pradyuman of Gurgaon's Ryan International School was found dead with his throat slit by a sharp-edged weapon in the school's washroom in September last year in which a 16-year-old student has been charged with committing the crime.
(With inputs from PTI)