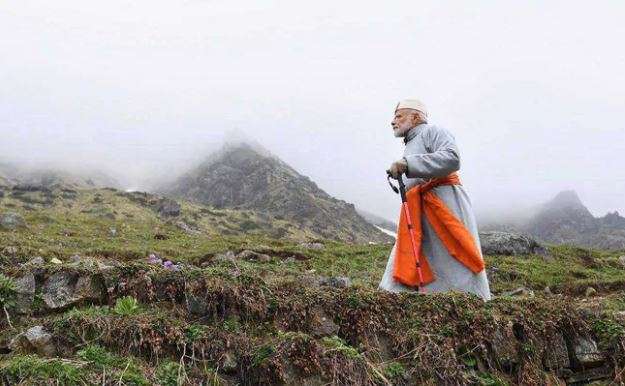 The National Democratic Alliance (NDA) is all set to register a thumping victory in the Lok Sabha election 2019, say at least seven exit polls.
According to exit polls conducted by major media houses, Prime Minister Narendra Modi will most likely retain power at the Centre.
Furthermore, the Bharatiya Janata Party (BJP) is expected to secure more than 250 seats.
Several exit polls -- India TV-CNX Exit Poll, India Today-Axis MyIndia and News18-Ipsos, among others -- have projected similar trends for the 17th Lok Sabha.
The India TV-CNX poll has predicted over 300 seats for NDA, 120 seats for the Congress-led UPA and around 122 seats for other parties --including the Samajwadi Party, Bahujan Samaj Party (BSP), Trinamool Congress (TMC) etc.
The Times Now-VMR has projected 306 seats for the NDA, India Today-Axis MyIndia 339 to 365, and News18-Ipsos 336.
The Republic TV-cVoter had predicted 287 and News Nation 282 to 290 seats for the NDA.
The maximum seats for the NDA has been projected by News24-Chanakya -- which predicts the BJP-led alliance to cross the 350 mark.
ABP Nielsen poll, however, predicts 267 seats for the NDA which falls 5 short of the half-way mark. If this happens, Congress chief Rahul Gandhi will still have a chance to form a coalition government.
The high-octane Lok Sabha election 2019 was interspersed with vitriolic attacks, counter-attacks, sporadic incidents of violence, some gloating by political leaders and much drama in- and outside the polling booths.
The exit poll results do not tantamount to the actual May 23 result.
The survey findings only give an indication of what the people might have in mind while voting.
For the actual result, we will have to wait till May 23 when the Election Commission of India announces the next prime minister of the nation.
| | | | |
| --- | --- | --- | --- |
| Exit Poll | NDA | UPA | Others |
| India TV - CNX  | 300 | 120 | 122 |
| India Today - Axis My India | 339-365 | 77-108 | 95-111 |
| Times Now - VMR | 306 | 132 | 104 |
| Republic TV - CVOTER | 287 | 128 | 127 |
| ABP Nielsen | 277 | 127 | 148 |
| News Nation | 282-290 | 118-126 | 130-138 |
| News18 - Ipsos | 336 | 82 | 124 |