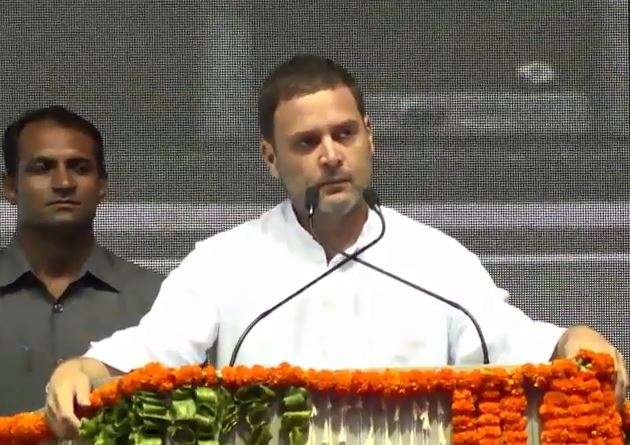 Congress president Rahul Gandhi, on Monday, addressed a national convention of the party's Other Backward Classes department in Delhi in which he said that country has no dearth of skilled people but they aren't given attention. 
On the occasion he also attacked Rashtriya Swayamsevak Sangh (RSS) said it "is planning to divide society". 
"The country is now a slave to a few people of the BJP and to Mohan Bhagwat," Congress president alleged.
"Congress party has served the country for 70 years and we aim to work on issues that the BJP is not paying attention to," he said and added "Narendra Modi ji had promised employment opportunities for the youth of the country. India, however, today is one of those countries that have the most number of unemployed youths." 
Gandhi's speech at the Talkatora Stadium at 11 a.m. is aimed to woo the Other Backward Classes in the country ahead of the 2019 General Elections. It comes after the Congress chief addressed a farmers' rally in Mandsaur in Madhya Pradesh on June 6, where he promised to waive loans to farmers within 10 days in case his party returned to power in the state.
Congress will also host an Iftar party in Delhi on June 13 after a gap of two years, a party leader said on Sunday.
"The Iftar will begin around 7.30 p.m. on Wednesday," Congress Minority Department Vice Chairman Manish R. Shah said.
It will be held either at the Taj Palace Hotel or Ashoka Hotel. Iftar party is the evening meal with which Muslims end their daily Ramadan fast. It happens at sunset.
The party's last Iftar was hosted by then Congress President Sonia Gandhi in 2015.
The Iftar, coming at a time when the opposition is aiming for an anti-BJP alliance ahead of the 2019 general elections, is expected to see a host of leaders from all opposition parties and of all faiths.
The Congress move comes a few days after the Rashtrapati Bhavan decided not to host an Iftar this year, with President Ram Nath Kovind stating that there should no religious observance at taxpayer's expense at the public building.
General elections are due to be held in April or May 2019 to constitute the seventeenth Lok Sabha. And Congress is planning to give a tough fight to Prime Minister Narendra Modi. 
(With IANS inputs)