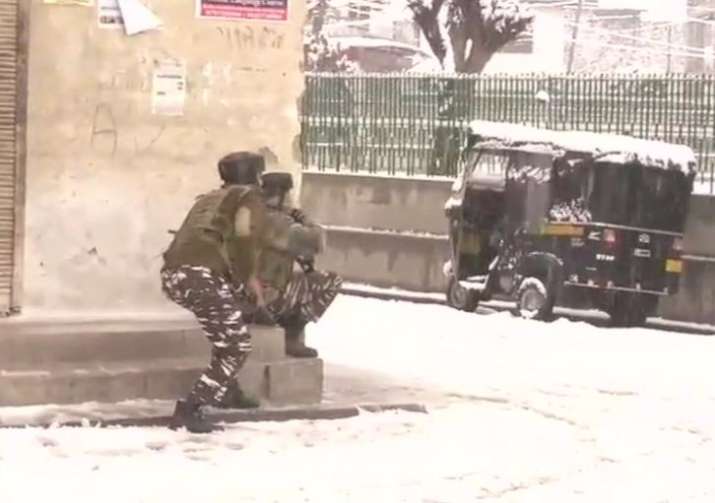 Fierce fighting continued between militants and security forces in the heart of Srinagar on Monday after a foiled attack on a CRPF camp left a trooper dead and a policeman critically injured. The LeT claimed responsibility for the attack.
As darkness enveloped the Karan Nagar area, loud explosions and the rattle of automatic gunfire could be intermittently heard, officials and residents said.
The site is barely 300 metres from the SMHS Hospital from where Pakistani LeT militant Naveed Jat alias Abu Hunzullah escaped on February 6 after two policemen were killed.
Police said residents in the vicinity had been evacuated to safety. Internet services were suspended in the area.
A caller identifying himself as Mehmood Shah of the Lashkar-e-Taiba telephoned a local news agency owning responsibility for the attack on the headquarters of the 23 battalion of the Central Reserve Police Force.
Jammu and Kashmir police chief S.P. Vaid congratulated the "alert CRPF sentry" for averting what could have been a suicide attack on the CRPF camp. "Fortunately two terrorists are in cordon and exchange of fire going on."
Trouble began around 4.30 a.m. when two militants were spotted by a sentry at the observation post. As he opened fire, the militants fled.
Searches in the area revealed that the militants, carrying backpacks and AK-47 rifles, had taken shelter in a building near the CRPF camp which was then surrounded.
When the holed up militants were challenged, they fired at the security forces, triggering a gunfight that left a trooper dead and a member of the Special Operations Group (SOG) of the Jammu and Kashmir Police critically injured.
The attempted attack on the CRPF camp comes two days after militants stormed an Army camp at Sunjuwan in Jammu, killing five soldiers and a civilian. At least three terrorists were also slain.