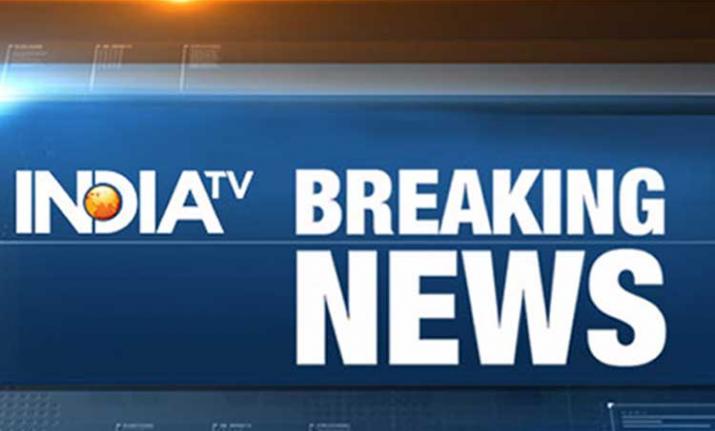 Daily dose of news plays very important role in our daily life. For some people, the morning is incomplete without knowing about what's happening across the world. Some digital-savy people have a habit of consuming news even when they are travelling or in their free time. In today's world, where people rely on news websites for everything that's happening around, IndiaTV News provides you all breaking news, latest news, breaking story videos, Live TV and top shows of IndiaTV, country's leading news channel on a single platform to ensure you don't miss anything important.
Internet, Twitter, Facebook are buzzing with breaking news and news alerts from India and rest of the world. You can find here the LIVE COVERAGE of all breaking news alerts and latest news updates on just one page. IndiaTV Digital covers all top news as and when it happens and ensures its readers don't miss anything important.
Breaking News November 26:
05:22 pm: Model code of conduct comes into effect in Madhya Pradesh & Mizoram where elections will be held on November 28
 04:00 pm: We welcome statement issued today by United States calling on Pakistan to uphold their UN Security Council obligations to implement sanctions against terrorists responsible for 26/11 Mumbai terror attacks, including Lashkar-e-Taiba and its affiliates: MEA.
03:44 pm: Sensex soars 373.06 points to 35,354.08; Nifty rallies 101.85 points to reclaim 10,600-mark.
02:37 pm: Congress has done divisive politics. As a result, terrorism was at its peak in the country. Today you can see that the terrorists which were fed Biryani by Congress are now being fed bullets by us: UP CM Yogi Adityanath in Makrana, Rajasthan 
02:14 pm: Turkish military plane crashes in residential area in Istanbul; casualties unknown
01:19 pm: HRD ministry instructs all states and union territories to formulate guidelines to regulate the teaching of subjects and weight of school bags according to Indian Govt instructions: Ministry of Human Resource Development
12:35 pm: Supreme Court refuses to hear fresh petition challenging Article 370 of the Constitution that gives special autonomous status to Jammu and Kashmir. The Court refused to hear the petition and said the petitioner may file impleadment application (IA) in the case
12:13 pm: Emirati officials show video of British national convicted for spying saying he is a captain in MI-6
11:46 am: One naxal injured in exchange of fire with teams of 206 CoBRA Battalion in Chhattisgarh's Sukma district
11:40 am: Supreme Court refuses to hear a PIL seeking to lower the age limit of candidates contesting Lok Sabha and Assembly elections, from 25 years to 18 years
11:13 am: A passenger J Poddar travelling on Kolkata-Mumbai Jet Airways flight was apprehended at Kolkata airport by CISF today. He was reportedly speaking on the phone threatening to blow up the plane (ANI)
11:08 am: Afghan official says a Taliban ambush of a police convoy in western Farah province killed at least 20 policemen
10:57 am: We need to trust India's democracy because they have this confidence we can unseat any political leader or political party howsoever popular, howsoever powerful in Delhi or in states: Union Minister Ravi Shankar Prasad
10:56 am: Ordinary Indian's sixth sense and DNA of his inherent trust in Indian democratic process, regardless of his religion, caste, community, economic status or literacy is the most defining moment of India's constitutional governance: Union Minister Ravi Shankar Prasad on Constitution day.
10:32 am: 
Rajasthan: Visuals of Congress President Rahul Gandhi at Ajmer Sharif Dargah pic.twitter.com/DPFi61fEZ4

— India TV (@indiatvnews) November 26, 2018
10:30 am: Our constitution is voice of marginalised and prudence of majority. Its wisdom continues to guide us in moments of crisis. It's in our best interest to heed advice under constitution. If we don't,our hubris will result in sharp descent into chaos: CJI Gogoi
10:29 am: When it was brought into force, our Constitution was criticised. Sir Ivor Jennings termed it as far too large and rigid. Time has weakened criticism and it's a matter of pride that our Constitution has lived with great vigour in last 7 decades: CJI Ranjan Gogoi in Delhi on Constitution Day. 
10:01 am: Maharashtra Chief Minister Devendra Fadnavis, Governor C Vidyasagar Rao and other cabinet ministers pay tribute at Martyrs' Memorial, Police Gymkhana at Marine Lines on the 10th anniversary of Mumbai terror attacks
09:15 am: Hong Kong rattled as 5.7 quake hits off Taiwan 
08:34 am: Harsimrat Kaur Badal had called Navjot Sidhu a 'qaum ka gaddar', now she herself is going to Pakistan, with what face will she go? Akali Dal had not taken up Kartarpur Corridor issue even once when they were in power: Sukhwinder Singh Randhawa, Punjab Minister (ANI)
08:02 am: Russia seizes three Ukrainian naval ships off Crimea
07:08 am: US reopens border crossing at San Diego after closing it several hours due to protests, migrants rushing border: US Customs and Border Protection
07:05 am: Vice President M Venkaiah Naidu will lay the foundation stone for the construction of Dera Baba Nanak-Karatarpur Sahib road corridor in Punjab's Gurdaspur district today 
06:51 am: The Department of State Rewards for Justice (RFJ) Program is offering new reward for up to $5 million for information leading to the arrest or conviction of any individual who was involved in planning or facilitating 2008 Mumbai attack: Pompeo on Mumbai attack
06:49 am: On behalf of the US government and all Americans, I express my solidarity with the people of India and the city of Mumbai on the 10th anniversary of the Mumbai terrorist attack: Mike Pompeo's remarks remembering Mumbai attacks
06:18 am: UN Security Council calls emergency meeting today over Ukraine, says US Ambassador Nikki Haley
06:17 am: US agents fire tear gas at migrants after some try to breach fence separating US and Mexico
06:16 am: Fire breaks out in a state roadways bus in UP's Mathura; fire tenders at the spot