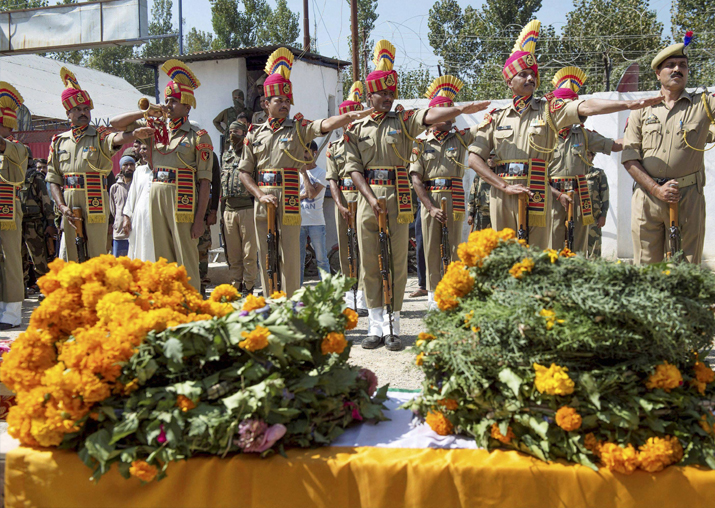 Jammu and Kashmir Police on Thursday said that terror outfit Lashkar-e-Taiba (LeT) was behind the the killing of a Border Security Force (BSF) trooper Muhammad Ramzan Parray in Bandipora district. 
Deputy Inspector General of Police, North Kashmir, Nitish Kumar, told reporters that three to four LeT militants first attacked the BSF trooper with a knife and later fired indiscriminately killing Parray and injuring his father, two brothers and his aunt in Parray Mohalla of Hajin area in Bandipora.
"Prima facie we know that LeT terrorists Muhammad Bhai and his associates carried out the attack around 9 p.m. yesterday (Wednesday)," he said.
Director General of Police SP Vaid has also said three to four militants barged into Parray's home and dragged him out. "When the family resisted, the attackers opened fire, fatally injuring Parray." 
It was about 9.25 pm, police said, the last half-hour of the life of the jawan, who fought valiantly before he was gunned down at point-blank range. The night before, police had launched a cordon operation at Parray mohalla and militants, it is learnt, believed he was involved in the exercise. 
Parray who was posted in adjacent Baramulla with 73 battalion of the BSF, had come on leave on August 26 to finalise the renovation of his house and look for better job prospects for his two brothers -- Javed Ahmed and Mohammed Afzal. One month and one day later, the sole bread earner of the family was dead. 
Trained in combat action, Parray, who joined the BSF seven years ago, fought with the intruders, injuring one of them. Jawan's brothers told police officials later at the hospital that he was planning to set up a shop for them. Parray was eager to join his battalion next week and had chalked out his future. But all those dreams have been shattered, his grieving brothers told the police.