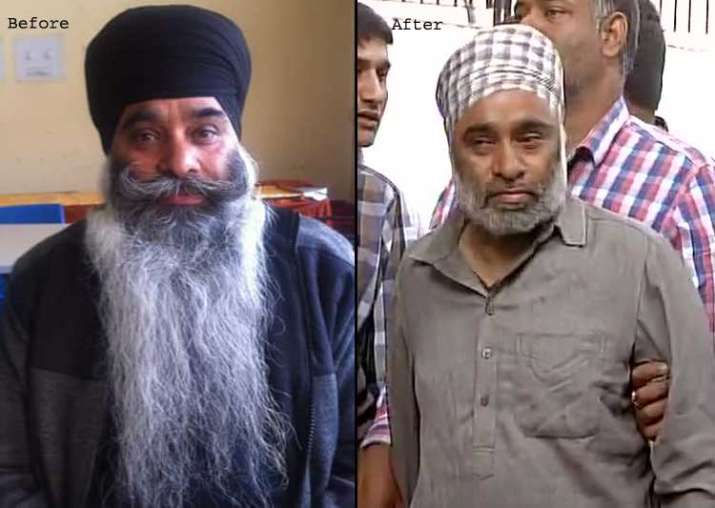 Khalistan Liberation Front Chief Harminder Singh Mintoo, who had escaped from Nabha jail in Punjab along with five other inmates yesterday, was caught at Nizamuddin Railway station in Delhi as he was planning to flee to Mumbai and then to Goa, police said.  
The militant outfit leader had trimmed his beard, moustache and hair and was hard to recognise when he was tracked down at the parking lot of the station late last night, the police said. 
He was produced before Patiala House Court today and was sent to 7-day police custody. 
Arvind Deep, special commissioner of police, Special Cell, said a pistol, six cartridges and some money was recovered from Mintoo. 
"It was a pre planned thing, Mintoo was part of the module of the escapees," he said. 
"Punjab Police had suspicion about his movement towards Delhi and they contacted Delhi Police. Following intensive checking and tracking, he was arrested from the railway station last night," said the officer. 
A team of Punjab police will now take him back to the state. It is the second arrest in the case. UP police last evening arrested the alleged "mastermind" of the daring daylight jailbreak, Parminder Singh. 
Mintoo yesterday escaped along with five other prisoners in a sensational jailbreak after a dozen armed men in police uniform tricked the sentries into opening the gates of the jail in Patiala, nearly 200 km from here, and bolted out with the inmates while firing a hail of bullets. 
The men, a little before 9 am, arrived in four cars at the gates of the jail with two handcuffed men, claiming they were bringing them back after a court hearing. After gaining entry, they snatched the rifle of a policeman and fired over 100 rounds. 
The men had broken out six prisoners within 10 minutes and had drove off.  A massive hunt was launched by the police which mistakenly fired at a car near a check-post around 25 km from the prison, killing a woman.
All the escapees went to different directions and Mintoo was dropped off around 70 km away at Haryana. He reportedly took a bus to Delhi from there.
Two abandoned cars have been found in Haryana's Kaithal district, one in in Pharal village and another in Solumajra. Kaithal in Haryana is about 70 km from Nabha in Punjab where the jailbreak incident took place. 
One of the armed men involved in the jailbreak, Parminder alias Penda, was arrested in Kairana in Shamli district in western Uttar Pradesh yesterday when the getaway vehicle--a Toyota Fortuner--was intercepted at a check post.
He tried to flee but was apprehended. Police said that it has recovered an SLR and three other rifles from his possession. 
He was today sent to 14-day judicial custody. 
49-year-old Mintoo was arrested by Punjab Police after he was deported from Thailand in November 2014. He was wanted in 10 terror cases including the 2008 attack on Sirsa-based Dera Sacha Sauda chief Gurmeet Ram Rahim Singh and recovery of explosives at Halwara Air Force station in 2010.
The KLF chief was brought to India along with his key aide Gurpeet Singh 'Gopi' after Punjab Police, in coordination with central agencies, traced them in Thailand, a senior police official said. 
Among the escapees was another terrorist Kashmira Singh, according to Punjab police chief Suresh Arora. Police say Kashmir Singh also travelled to Delhi with the apprehended absconders and they suspect that he may still be present in Delhi. A massive search operation is currently underway to nab him, police sources said.