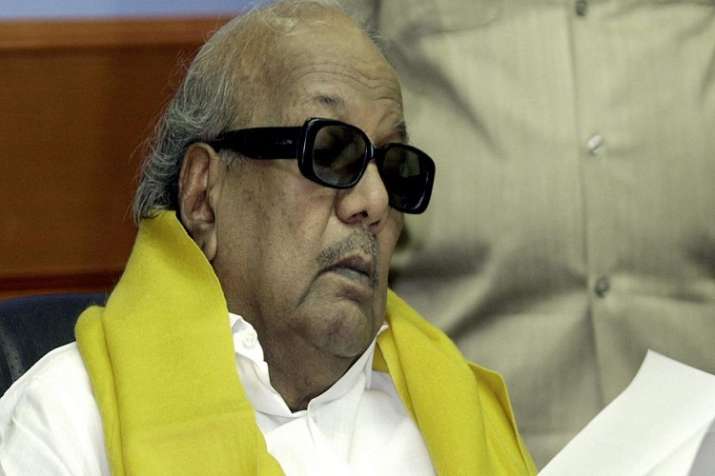 M Karunanidhi, former five-time chief minister of Tamil Nadu passed away in Kauvery hospital in Chennai on Tuesday. He was 94. He is survived by his wives Dayalu and Rajathi, sons M K Muthu, M K Alagiri, M K Stalin, and M K Tamilarasu and two daughters, Selvi and Kanimozhi.
As the nation mourns the death of the political stalwart, here are some interesting facts about the him, hailed by his supporters as 'Kaliagnar' (artist).
INTERESTING TRIVIA ON M KARUNANIDHI
1. Inspired by speaker Azhagirisamy, considered the pillar of justice party, Karunanidhi became an activist at the age of 14. Later, he founded an organisation called Tamil Nadu Tamil Manavar Mandram, which was the first student wing of the Dravidian Movement. 
 
2. Karunanidhi failed in his 10th standard and moved to Coimbatore, where he made a living by writing scrpits for professional theatre groups.
3. His skills as an orator and polemicist captured the attention of Periyar and Annadurai and was appointed the editor of their Dravidar Kazhagam party magazine, Kudiyarasu, while allowing him to continue working part-time in theatre.
4. Karunanidhi helped Annadurai form DMK in 1949. He also served as its first treasurer. By early 1950s, he graduated from theater to cinemas and his scripts produced a few blockbusters, most famous of all is 'Prasakthi.'
5. M. Karunanidhi was popularly known as 'Kalaignar'(artist), for his less contributions to Tamil literature through his poems, letters, screenplays, novels, biographies, historical novels, stage-plays, dialogues and movies. He has also contributed to the Tamil literature through art and architecture, he constructed a 133-foot high statue of Thiruvalluvar, a Tamil poet and philosopher, at Kanyakumari.
6. He married Dayaluammal after the death of Padmavati, his first wife. Later, he married Rajathiammal and had a daughter Kanimozhi who is now Rajya Sabha MP. His son from first wife, M.K. Muthu is actor, singer and a member of AIADMK. MK Azhagiri and MK Stalin are his sons from his second marriage. Azhagiri is now a Cabinet Minister and Stalin is serving as working president of DMK.
7. He founded Murosoli at the age of 14 which grew into DMK's official newspaper. His family also owns Sun TV group, one of Tamil Nadu's biggest media organisation.
8. He has been elected to the Tamil Nadu Legislative Assembly for a recorded number of 12 times as an MLA (Member of Legislative Assembly).
9.He wrote the screenplay for Ellis Roderick Dungan's last film. Ellis Dungan is the American film director who is credited for revolutionizing Tamil cinema. His last film was Manthiri Kumari.
10. Karunanidhi became the oldest serving Chief Minister of Tamil Nadu when he assumed office as Chief Minister in 2006.
Also read | Karunanidhi funeral today, latest updates
Watch video: