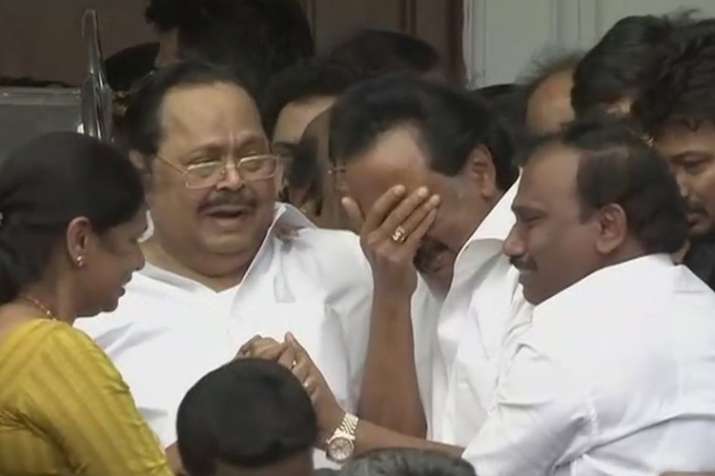 For the last eleven days, he maintained his composure meeting leaders who visited his ailing father at a Chennai hospital. On Wednesday, MK Stalin broke down near his father's mortal remains. As thousands gathered to wish final goodbye to their favourute leader - M Karunanidhi - at Rajaji Hall, Stalin stood stoic with hands folded near the tricolour-wrapped body of his father. He broke down after meeting a family member. 
Paying homage to his father, Stalin penned an emotional poem for Karunanidhi, who breathed his last at Chennai's Kauvery Hospital on Tuesday (August 7) evening. "Can I call you Appa for one last time my leader," Stalin wrote in his moving tribute to Kalaignar.
"Rather than calling you as Appa, Appa, I have called you as Thalaivaray, Thalaivaray (my leader) more number of times. Can I call you as Appa once Thalaivaray," Stalin said.
ஒரே ஒருமுறை இப்போதாவது 'அப்பா' என அழைத்து கொள்ளட்டுமா 'தலைவரே'! pic.twitter.com/HWyMPkSmLj

— M.K.Stalin (@mkstalin) August 7, 2018
Stalin asked if Karunanidhi had departed with the contentment that he had done enough for the Tamil community.
"Dear leader, who is intertwined with our thoughts and aspirations, where did you go leaving us behind," Stalin, 65, said.
Karunanidhi had picked Stalin as his political heir in 2013, however, the veteran leader stopped short of giving full command of the DMK to his son despite his poor health. Since then, Stalin has been addressed as ' DMK's working president' in the media.