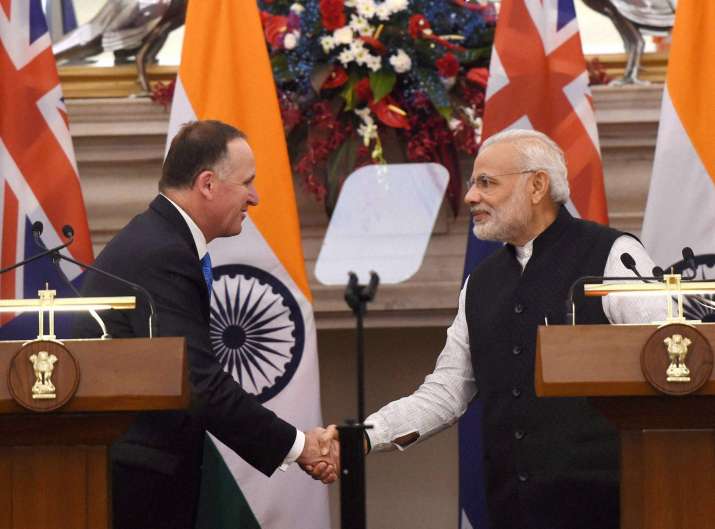 Acknowledging the importance of India joining the Nuclear Suppliers' Group (NSG), New Zealand on Wednesday affirmed its "constructive contribution" towards New Delhi's quest for the membership of the elite club.
Addressing a joint press conference here with Prime Minister Narendra Modi, New Zealand Prime Minister John Key also assured of his country's continued support to India's bid to become a member of the reformed UN Security Council.
"I and Prime Minister Modi had a conversation about India's application to become a member of the Nuclear Suppliers' Group (NSG). I acknowledged the importance of India joining the NSG. 
"I also stated that New Zealand will continue to contribute constructively to the process currently underway in the NSG to consider India's membership. New Zealand is committed to working with the NSG members to reach a decision and as soon as possible," said Key.
The visiting Prime Minister further said: "I reiterated to Prime Minister Modi about New Zealand's consistence support for India to become a member of the reformed UN Security Council, including if this means expansion of the UNSC," said Key, adding that both leaders underlined their strong interest in advancing nuclear disarmament and nuclear nonproliferation.
Speaking on mutually beneficial ties with India, Key said both countries agreed on working closely in areas such as "food safety, cyber security, education and customs".
"We also agreed for close coordination on a range of issues, including international terrorism," said Key.
Modi and Key underscored New Zealand and India's cooperation in regional forums, including the East Asia Summit, the ASEAN Defence Ministers Meeting Plus and the ASEAN Regional Forum. 
The two Leaders reaffirmed the importance of these regional bodies for furthering the security and prosperity of the Asia-Pacific region. Both sides emphasized the importance of all parties maintaining peace and stability in the region.
Observing that there is potential for the bilateral trade to grow, Key said both leaders are committed towards creating business environment in the respective countries conducive to creating jobs and prosperity for the people.
"High quality trade agreements will encourage that and Prime Minister Modi and I agreed to work towards that goal thorough our bilateral free trade agreement negotiations and regional comprehensive economic partnership talks," added Key.
In his remarks after bilateral talks with visiting Key, Modi said the two countries have agreed to work towards early completion of Comprehensive Economic Cooperation Agreement (CECA). 
 
"Prime Minister Key and I have had detailed and productive discussions on all aspects of our bilateral engagement and multilateral cooperation," Modi said. 
"We both recognised need for greater economic engagement in order to effectively respond to the growing uncertainties in the global economy... We have agreed to continue to work closely towards an early conclusion of a balanced and mutually beneficial CECA," he added.
Modi also said that food processing, dairy, agriculture and the related areas, including their supply chain, have a lot of scope for cooperation. 
Key is on a three-day state visit to India.