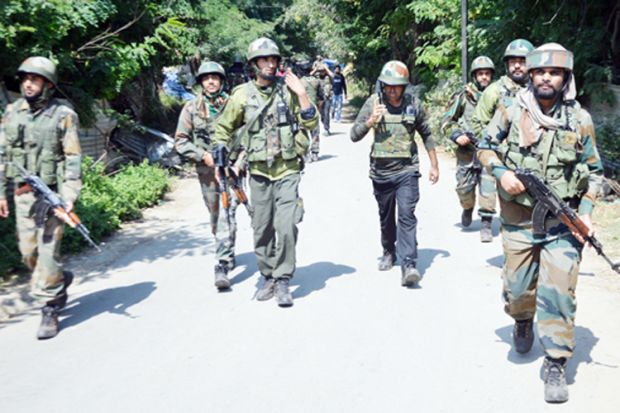 Two Special Police Officers (SPO) and once constable who were kidnapped from south Kashmir's Shopian have been killed by terrorists. The bullet-ridden bodies of Firdous Ahmad Kuchey, Kuldeep Singh and Nisar Ahmad Bhat were recovered from a forested area in Wangam near Shopian. Reports suggest that terror group Hizbul Mujahideen could have been involved in the kidnapping, murder of the police personnel. 
Hizbul Mujahideen commander Riyaz Naikoo has reportedly taken responsibility of dastardly abduction and murder of the three policemen.
The killings come days after Hizbul's threat to SPOs asking them to resign.
Last month, terrorists had kidnapped 10 family members of police personnel in south Kashmir. The abductions took place soon after the National Investigation Agency (NIA) arrested Syed Shakeel Ahmad, who is the son of Hizbul Mujahideen chief Syed Salahuddin. 
We have lost 3 of our brave colleagues in a barbaric terror strike. Our tribute to the 3 martyred Jawans Nisar Ahmad, Firdous Kuchay & Kulwant Singh. We condemn this inhuman act and assure that all the culprits shall be dealt under law. @JmuKmrPolice

— Kashmir Zone Police (@KashmirPolice) September 21, 2018
Riyaz Naikoo had then claimed responsibility for the abductions in a 12-minute video, issuing a three-day deadline for the release of all relatives of terrorists who were in police custody. The abductions took place in Shoipan, Kulgam, Anantnag and Awantipora in Kashmir.
Jammu and Kashmir is scheduled to hold panchayat and local civic body polls in October and November. Intelligence agencies have warned of increase in violence by terrorists to disturb the polls. The rise in kidnapping and murder of security personnel in the state is indicative of terror groups being frustrated by the continuous action against them by the Army and state police. Dozens of terrorists have been killed in enounters across the region this year. 
WATCH: Terrorists kidnap, kill three police personnel in J-K's Shopian