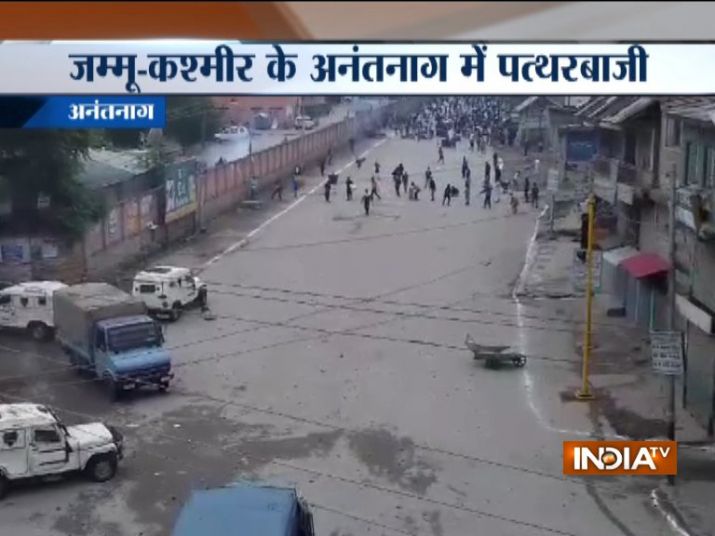 Security forces were forced to fire tear gas shells on a mob pelting stones at them in Jammu and Kashmir's Anantnag on Friday. Dozens of stone pelters started targeting security forces immediately after special Eid prayers forcing the securitymen to respond. No reports of anyone being injured in the incident have been received so far.
Situation in the Valley remains tense following brazen killings of Rising Kashmir newspaper's editor-in-chief Shujaat Bukhari and Army rifleman Aurangzeb in separate incidents earlier this week.
While Bukhari along with his two personal security guards were killed in Srinagar, who belonged to 4 Jammu and Kashmir Light Infantry and was posted at the 44 Rashtriya Rifles camp at Shadimarg in Shopian, was abducted by terrorists when he was going home on Eid leave. His bullet-ridden body was found in Pulwana's Gussu village on Thursday (June 14) evening.
PM Modi chairs high-level meeting on J&K situation
Prime Minister Narendra Modi held a meeting with Home Minister Rajnath Singh on the security situation in Jammu and Kashmir and to review the suspension of operations during the month of Ramzan that ended on Friday (June 15).
 
During the meeting, the Home Minister is understood to have briefed on the security situation in the Kashmir Valley, especially in view of the recent killings, including that of veteran journalist Shujaat Bukhari in Srinagar. 
The Centre is expected to monitor the situation for some more days before taking a decision on extending the ceasefire, sources privy to the meeting said.
Watch: Stone pelters target security forces on Eid in Anantnag
​