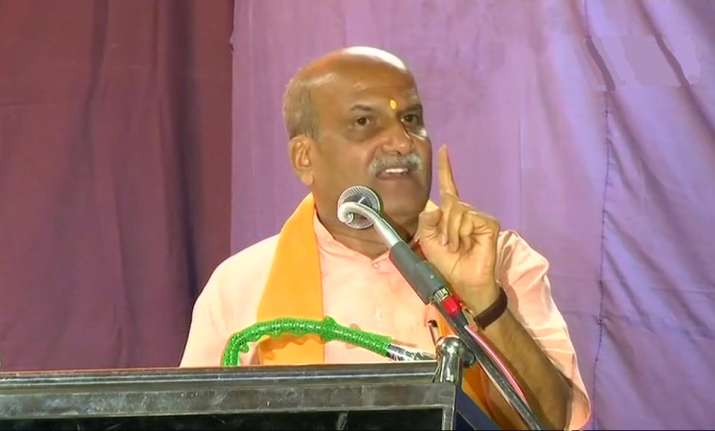 Sri Ram Sena chief Pramod Muthalik indirectly compared veteran journalist Gauri Lankesh's murder with a dog's death on Sunday. Speaking at a public interactive programme in Bengaluru, Muthalik stated that Prime Minister Narendra Modi cannot be expected to comment 'everytime a dog dies in Karnataka'. 
Muthalik, who was recently in questioned by the investigating agencies in connection with the murder case, added that his organisation did not have any role in the murder of Gauri Lankesh. 
"Everyone is saying that Hindu groups conspired to kill Gauri Lankesh. But two murders in Maharashtra and two in Karnataka took place during Congress's regime. But no one is saying anything about the Congress government's failure. Instead they ask why PM Modi has kept mum about her murder. Why should PM Modi react? Do you expect Modi to respond everytime a dog dies in Karnataka?" Muthalik said.
The Sri Ram Sene chief's statement drew criticism from Congress leader Manish Tewari, who termed it 'disgusting, nauseating, revolting'. 
"Disgusting,nauseating, revolting...vigilante group Sri Ram Sene's Head Pramod Muthalik compares assassinated journalist Gauri Lankesh to a dog. Mr Prime Minister @narendramodi you did not condemn Gauri Lankesh's murder are you now going to condone this too (sic)," the Congress leader tweeted.
According to reports, he later clarified his comment stating that he did not make any direct comparison. He also added that though his organisation had ideological differences with Gauri Lankesh, "We have not nor will we stoop down to murdering that person."
Sri Ram Sene came under police radar after one of its worker Parashuram Waghmare was booked as the prime suspect in the journalist's murder. Waghmare has reportedly confessed to crime. The 26-year-old claimed he didn't know the identity of the person he was killing. According to a TOI report, Waghmare said, "I was told in May 2017 I had to kill someone to save my religion. I agreed. I didn't know who the victim was. Now, I feel that I should not have killed the woman."
Waghmere reportedly said he was 'brainwashed' into committing the crime. 
Gauri Lankesh, known for her extreme views was shot dead by two bike-borne assailants outside her residence on September 5, 2017.