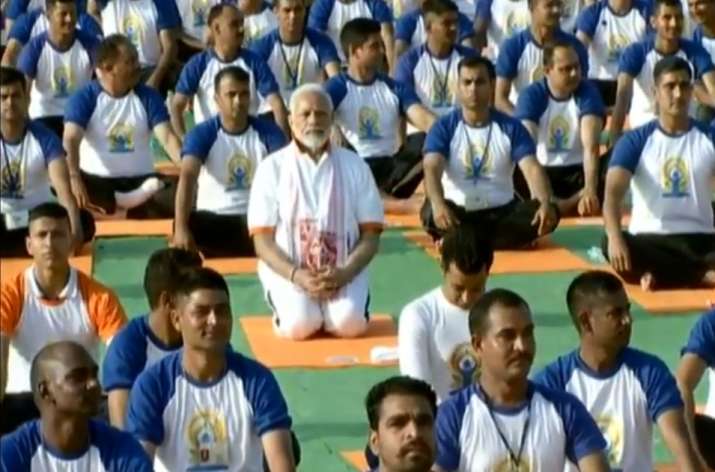 Prime Minister Narendra Modi performed several yoga-asanas with over 50,000 people at Dehradun's Forest Research Institute (FRI) campus on the occasion of 4th International Yoga Day on Thursday, June 21. Speaking during the event, PM Modi described yoga as 'powerful unifying' force in a strife-torn world. Clad in white t-shirt, trousers and a trademark Assamese handwoven white-red towel, PM Modi performed asanas for over 30 minutes.
Pointing out that yoga has become a mass movement across the world, PM Modi said it has shown the the world the way from "illness to wellness" and enriching lives across the globe. 
"When disintegrating forces gain prominence it is yoga that unites, creates amity in societies, which forms the basis of national unity and unity among nations, and finally leads to universal peace and brotherhood. It has become a powerful unifying force," PM Modi told a large gathering which had assembled at the sprawling FRI campus. 
Highlights: How India, world celebrated 4th International Yoga Day
"Dehradun to Dublin, Shanghai to Chicago, Jakarta to Johannesburg, Himalayan highlands or sunburnt deserts, yoga is enriching millions of lives all over the world. Yoga fosters amity in societies, which can form the basis of national unity," the prime minister said. 
I urge people around to world to embrace Yoga.

I also request people to share the joys of Yoga with others by teaching Yoga particularly to today's youth. This way we can create a healthier planet. pic.twitter.com/aaUFOGXHvi

— Narendra Modi (@narendramodi) June 21, 2018
PM Modi said the way to lead a calm, creative and content life was yoga. He added that yoga is 'beautiful because it is ancient yet modern'.
"In yoga, we have the perfect solution to the problems we face, either as individuals or in our society. Instead of dividing, yoga unites. Instead of further animosity, yoga assimilates. Instead of increasing suffering, yoga heals," he said. 
Massive security arrangements
Elaborate security arrangements were made and nearly 3,000 security personnel deployed in and around the FRI campus. The campus was under CCTV camera surveillance. Modi arrived at the FRI at around 6.30 am.
Modi in 2015 lead the yoga celebrations at Rajpath in New Delhi and in 2016 at the Capitol Complex in Chandigarh. Last year he participated at an event at the Ramabai Ambedkar Sabha Sthal in Lucknow.
WATCH: PM Modi leads over 50,000 people in Dehradun on Yoga Day