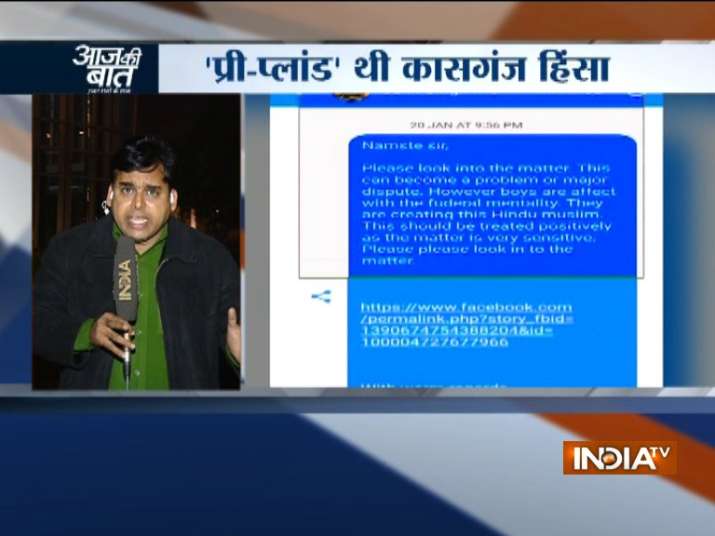 In a major revelation, India TV has learnt that Police could have averted the Kasganj communal clashes as it had been warned about brewing tension between two groups a week in advance. 
According to information accessed by India TV reporter, Kasganj violence was pre-planned and authorities could have prevented it if they had paid any heed to warnings signs on social media. 
The two groups, which clashed during the Tiranga Yatra on Republic Day, had been exchanging heated arguments on WhatsApp and Facebook. With time, the social media debate turned physical. India TV has proof that the police were aware of the escalating tension between the two groups. 
Kasganj SP had been informed a week in advance about the growing dispute, but he did not pay any heed to the information. 
Muslim boys had been challenging Hindu youths to enter their area and the latter accepted. The 'challenge' led to violence during Tiranga Yatra, which claimed the life of Chandan Gupta. 
Incidentally, the victim's friend-named Chandan Sankalp had warned him on January 20 that Kasganj could soon witness a communal violence. 
Sankalp and his another friend Aayush Sharma volunteered at a local NGO. Chandan Gupta had invited Aayush for the Tiranga Yatra but he chose not to go. 
As soon as Aayush got a whiff of possible communal clashes in the city, he informed the city SP on Facebook, only to get a reply that the police official was busy. "We will investigate the matter when we have time," he said. 
Desperate to stop violence, Aayush then tweeted about it and tagged state Chief Minister Yogi Adityanath and Home Minister Rajnath Singh, but in vain. 
If the police had acted on time, the violence could have been averted.