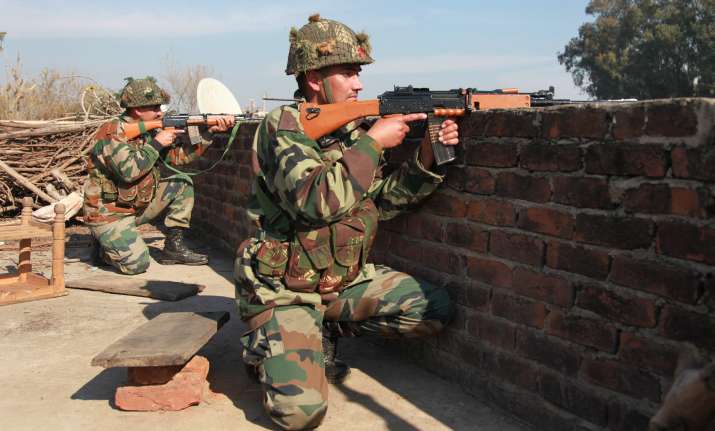 There has been an increase in the death toll of Indian soldiers with 68 jawans martyred in 15 terror attacks on the army in 2016 against 67 in 2015, the Lok Sabha was today informed.
2016 also recorded 449 instances of ceasefire violation by Pakistan along the Jammu and Kashmir border.
In a written response to a question in Lok Sabha, Subhash Bhamre, Minister of State for Defence, said 10 cases of terror attacks were recorded in 2014, followed by 11 in 2015, 15 in 2016 and three until March 15 this year. 
2015 and 2016 also saw a spike in the number of deaths of army personnel, recording 67 and 68 casualties respectively in terror attacks and along the border. In 2014, 38 army personnel died in terror acts while 13 have lost their lives this year. 
Bhamre said, in 2016 the area along the Line of Control, which is under operational control of the army, saw 228 instances of ceasefire violations while the area along the international border in Jammu and Kashmir, under the control of the Border Security Force (BSF), recorded 221 instances of ceasefire violations. 
This accounts for more than one instance of ceasefire violation everyday. 
In 2017, 30 instances of ceasefire violations were recorded along the LoC while six such instances along the international border were recorded until February 6 by the BSF.
In response to another question, Bhamre said, the army has conducted joint exercises with 18 countries over the last three years. 
The Air Force has conducted exercises with eight countries and the navy conducted joint exercises with 14 countries. India also signed defence agreements with 21 countries, Bhamre said.
Responding to another question related to vacant posts in Armed Forces Tribunal, Bhamre said 15 posts of members (judicial and administrative) are lying vacant in the AFT while 217 posts of Group A, B and C are also vacant. 
"The ministry has taken action for filling up of existing vacancies and also the anticipated vacancies upto June 30, 2017," the minister said. 
In response to another question related to shortage of assault rifles in the army, Bhamre said, a fresh proposal has been initiated to procure new assault rifles which would meet desired operational parameters.
(With inputs from PTI)