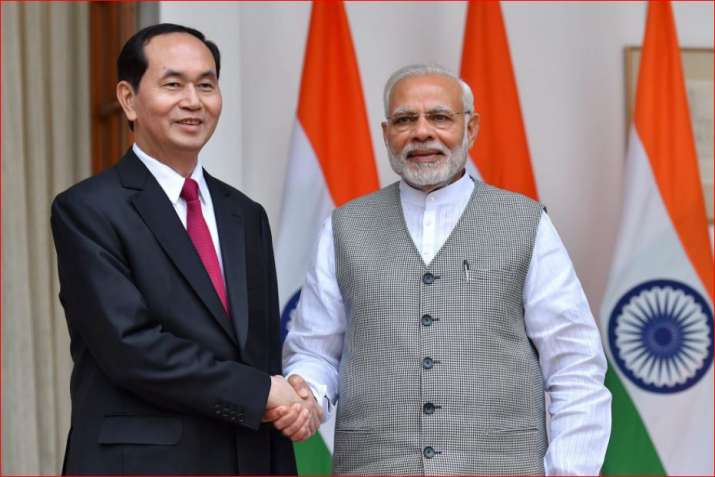 In what can be seen as a strong signal to China, India and Vietnam on Saturday agreed to work for an independent, open and prosperous Indo-Pacific region as the two sides signed three agreements, including one on enhancing bilateral economy and trade.
"We will work together for an independent, open and prosperous Indo-Pacific region where sovereignty and international laws are respected and disputes are resolved through dialogue," Prime Minister Narendra Modi said in a joint address to the media with visiting Vietnam President Tran Dai Quang following delegation-level bilateral discussions here.
"Both of us are committed to expanding our maritime ties and ensure an open, transparent, inclusive and rules-based regional architecture," Modi said.
On his part, Quang said that both countries will work together for regional security, including maritime and cyber security. 
The remarks assume significance given China's increasing influence in the Indian Ocean region and aggressive attitude in the South China Sea. 
In his remarks, Modi said that Vietnam has played a significant role within the framework of New Delhi's Act East Policy and India's ties with the Association of Southeast Asian Nations (Asean) regional bloc.
Vietnam is the country coordinator for India with the Asean, a role that will be passed on to Thailand later this year. 
The Prime Minister recalled that during his visit to Vietnam in 2016, the bilateral relationship was elevated from a Strategic Partnership to a Comprehensive Strategic Partnership.
"Last year, we celebrated 45 years of our diplomatic relationship and the 10th anniversary of our Strategic Partnership," he said.
"Our ties are not just limited to our two governments. Our civlisational ties are 2,000 years old."
Stating that all aspects of the bilateral relationship were discussed in detail in Saturday's talks, Modi said that both nations, being developing nations, gain from the experiences of each other.
"We are fortunate that thousands of Vietnamese people have received education and training in technical and other areas in India," he said.
He also pointed out that bilateral trade continued to grow even in the current global economic scenario and said trade between the two countries rose from $6 billion to $10 billion in the last five years,
He said that, in the discussions, both sides agreed to further strengthen trade and investment ties, including in sectors like renewable energy, agriculture and agro-products, textiles and oil and gas.
"We will not only strengthen our longstanding bilateral partnership in oil and gas, but also explore possibilities of working with other countries for trilateral partnership," Modi said. 
Stating that defence and security is an important pillar of the strong bilateral ties, he said that the all defence services of the two nations enjoy close cooperation and it was decided in the talks to increase cooperation in defence production.
"We will also explore possibilities in co-production and transfer of technology in the defence sector," he stated.
Stating that the old civilisational ties between the two countries are still alive and can be seen in the increasing cultural, tourism and people-to-people links, the Prime Minister said that the Archaeological Survey of India has contributed to the preservation and restoration My Son Unesco World Heritage site in Vietnam.
He also thanked Vietnam for its invaluable support last year in getting Ahmedabad recognised as a Unesco World Heritage City.
"Our relations are are not only beneficial for the well-being and happiness of our two nations, but also important for peace, security and stability of the entire region," Modi stated.
On his part, President Quang said that both sides hoped to increase two-way investment and hoped that bilateral trade will reach $15 billion by 2020.