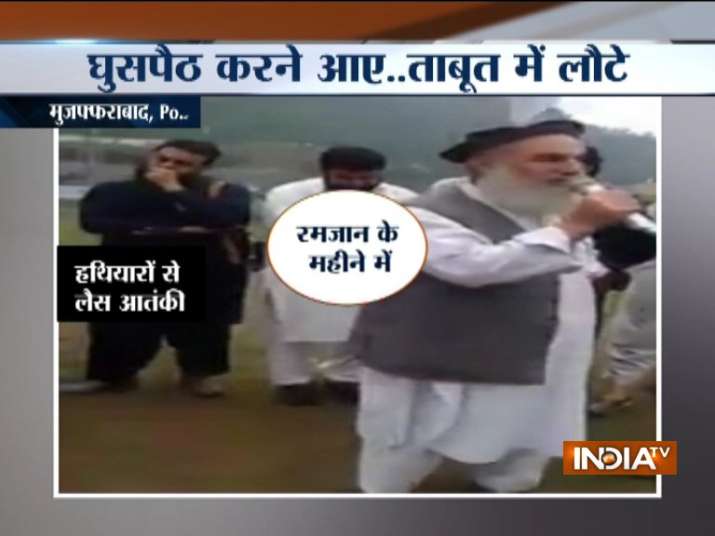 A day after Indian Army killed six infiltrating terrorists at the LoC in Keran sector, India TV has accessed video of a funeral of two terrorists in Muzaffarabad in Pakistan Occupied Kashmir (PoK). Top sources have confirmed the identity of the terrorists and said that they were being used by Pakistani terrorists as guides to infiltrate into India. 
The killed terrorists were reportedly from Manigam area of Kupwara in North Kashmir - namely Majeed and Rafiq -  and were working as guides to help terrorists infiltrate across the LoC. Both were eliminated in a recent exchange of fire at the LoC in Jammu and Kashmir's Keran sector on June 7.
The video shows the funeral of the two terrorists and around 5-10 armed Al-Badr terrorists can also be seen in the video. The sources say that the jawans of Pakistani Army were also present at the funeral.
The video is a testimony to the recent infiltration attempts and increase in terrorists at launchpads across the border but Army continues to eliminate them amid Ramzan ceasefire. 
The video also shatters the claims by Pakistan DGMO recently that they would respect 2003 ceasefire agreement between India and Pakistan. Terrorists continue to infiltrate into Jammu and Kashmir under the watch of Pakistan Army.
Al-Badr is a terrorist organisation which is being revived and reactivated by Pakistan in South Kashmir. Al-Badr was originally founded around 1990 along with Hizbul Mujahideen and JKLF but vanished by the end of 90s as most of its terrorists were killed or arrested. 
The group which predominantly had local terrorists, now mostly has Pakistani terrorists and many more waiting to infiltrate into J&K. Al-Badr recently had released a video claiming responsibility for grenade attack in Tahab, Pulwama and warned cops and local politicians of more attacks.