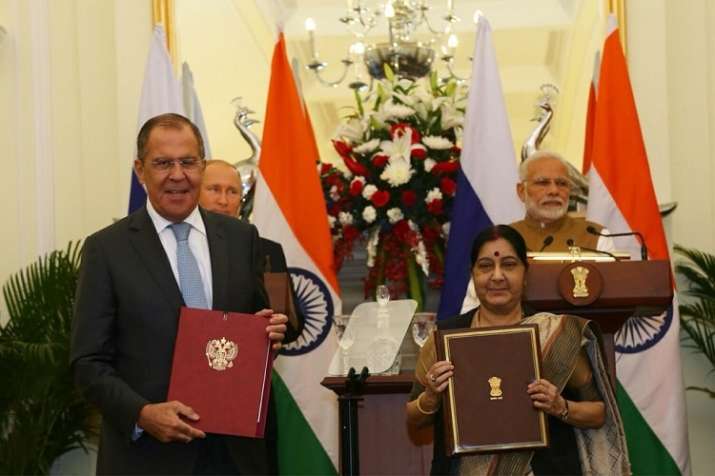 Following a wide range of talks between Prime Minister Narendra Modi and Russian President Vladimir Putin, India and Russia on Friday signed the USD 5 billion S-400 air defence system deal. The agreement was signed in presence of both the leaders at the 19th India-Russia annual bilateral summit.
The S-400 missile defence system deal could result in US sanctions under the Countering America's Adversaries, through the Sanctions Act (CAATSA) instituted by the US Congress on arms purchases from Russia.
The US has urged its allies to forgo transactions with Russia, warning that the S-400 missile defence system that India wanted to buy would be a "focus area" for it to implement punitive sanctions against a nation undertaking "significant" business deals with the Russians.
The possibility of a presidential waiver however, has been allowed by the American lawmakers.
India wants the long-range missile systems to tighten its air defence mechanism, particularly along the nearly 4,000-km-long Sino-India border.
The India-Russia annual summit was held by both the leaders on Friday after which eight pacts were signed.
The pacts also included the cooperation on India's ambitious human space mission project Gaganyaan.
Pacts were also inked in the fields of space, nuclear energy, railways and space.
A crucial MoU between Indian Space Research Organization (ISRO) and the Federal Space Agency of Russia 'ROSCOSMOS' was signed on joint activities in human spaceflight programme Gaganyaan.
S-400 is known as Russia's most advanced long-range surface-to-air missile defence system. China was the first foreign buyer to seal a government-to-government deal with Russia in 2014 to procure the lethal missile system.
Moscow has already begun the delivery of the S-400 missile systems to Beijing.