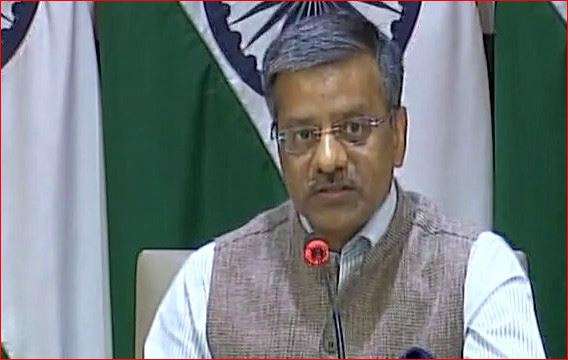 Hours after Nikki Haley, US Ambassador to the UN, suggested that Trump administration may "find its place" in efforts to de-escalate Indo-Pak tension, India swiftly rejected the possibility of any US role in resolving bilateral disputes between the two South Asian neighbours.
Reacting to Nikki Haley's comments, Ministry of External Affairs (MEA) spokesperson Gopla Baglay on Tuesday made it clear that the Indian government's stand on resolving disputes with Pakistan bilaterally has not changed.  
"The government's position for bilateral redressal of all India-Pakistan issues in an environment free of terror and violence hasn't changed," Gopal Baglay said. 
India, however, asked the world community to make Pakistan act against terrorism and enforce the rule of law in keeping with international norms.
"We, of course, expect the international community and organisations to enforce international mechanisms and mandates concerning terrorism emanating from Pakistan, which continues to be the single biggest threat to peace and stability in our region and beyond," Baglay added. 
On Monday, Nikki Haley had said that the possibility of US President Donald Trump personally getting involved in the Indo-Pakistan peace process cannot be ruled out.
Haley further said that the Trump administration is concerned over the state of India-Pakistan relations and wants to reduce the chances of conflict in future. 
"This administration is concerned about the relationship between India and Pakistan and very much wants to see how we de-escalate any sort of conflict going forward. I would expect that the administration going to be in talks and try and find its place to be part of that (process)," Haley said.
"And also wouldn't be surprised if the President participates as well," she added.