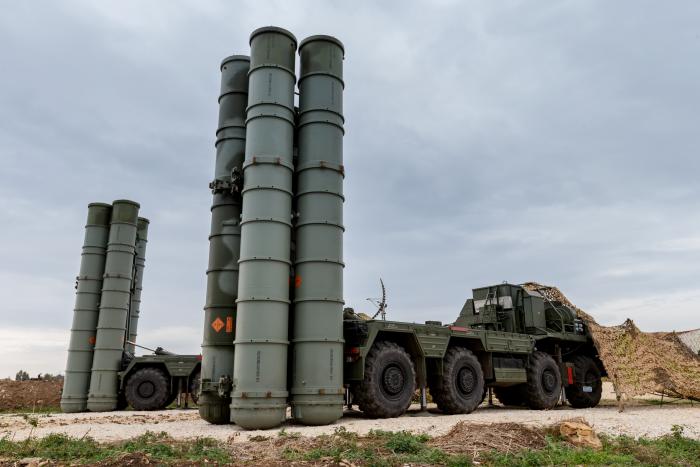 India and Russia on Friday signed the much-awaited S-400 Triumf missile systems deal when President Vladimir Putin met Prime Minister Narendra Modi at Hyderabad House in New Delhi.
President Putin arrived in India on Thursday evening for attending the 19th India-Russia annual bilateral summit.
The deal may lead to  US sanctions under the Countering America's Adversaries Through Sanctions Act (CAATSA) instituted by the US Congress on arms purchases from Russia.
However, in a guided reaction after the Indo-Russia deal, the United States said that its intent to slap sanctions against Russia was not aimed at imposing damage to the military capabilities of its "allies or partners."
The US also added that any waiver will be considered on a transaction-by-transaction basis, adding it cannot prejudge any sanctions decisions.
However, the fact is that India and Russia were negotiating this deal for a long time, even before CAATSA was passed by the US Congress.
"The negotiations for the S-400 missile system preceded CAATSA (Countering America's Adversaries Through Sanctions Act) by a long period, in fact several years," news agency IANS quoted a  source as saying.
The S-400 missile deal has been an issue of much speculation after the Trump administration's CAATSA law came into effect in January.
CAATSA targets countries doing business with Russian, Iranian and North Korean defence companies.
The issue of the US putting fresh sanctions on Iran over its nuclear agreement after pulling out of the Joint Comprehensive Plan of Action (JCPOA) that Tehran signed with the five permanent members (P5) of the UN Security Council, Germany and the European Union also came up for discussion during the 19th India-Russia Annual Bilateral Summit between Prime Minister Narendra Modi and Russian President Vladimir Putin here.
The US has asked other countries to stop buying oil from Iran and this sparked concerns in New Delhi as the West Asian nation is a major supplier of crude oil to India.
According to IANS sources, there was a general agreement during the summit that "we should keep Iran in the deal"..
There was also a lot of talk on the energy sector, especially oil prices, during the Modi-Putin meeting.
It is learnt that both India and Russia agreed to work together to stabilise oil prices. Putin also said that if needed, Russia will increase its oil output.
The possibilities of Indian private investment in the gas sector in the Arctic also came up for discussions.
Russia, the sources said, offered ice breaking ships so that India can import Arctic gas.
"India expressed interest in acquiring more oil assets in Russia," a source said.
There was also some discussion on the Russian Far East and both sides agreed to develop a strategy for that region, it is learnt.
There was talk on space cooperation and Putin offered his full cooperation to India's planned manned space programme Gaganyan.
In terms of defence cooperation, apart from the S-400 missile system, Modi emphasised on co-production in the defence sector under the Make in India programme.
"Modi called for going beyond the current buyer-seller relationship," a source said.
Both sides also discussed enhancing business between them and there was talk of cooperation between Indian states and Russian regions.
The two sides also felt that the 20 per cent year-on-year growth in bilateral trade was way below potential and have set a trade target of $25 billion by 2025.
Putin, it is learnt, also offered medium range Russian passenger jets for use by regional airlines in India.
He expressed Russia's interest in the railways sector in India.
"Russia is already involved in speed raising in the Nagpur-Secunderabad section," a source pointed out. 
On his part, Modi highlighted IT and pharmaceuticals and called for further opening up of the Russian market.
Interestingly, Putin also asked about the implementation of the Goods and Services Tax (GST) in India indicating that he might be interested in putting in place such a structure in Russia.
According to the sources, another issue that came in for much attention was connectivity and both sides discussed how to make the International North South Transport Corridor (INSTC) effective.
"Like, for example, a container from Mumbai reaching a place like St. Petersburg in Russia without any hurdles," a source explained.
The INSTC is a 7,200-km-long multi-modal network of ship, rail and road routes to move freight between India, Iran, Afghanistan, Armenia, Azerbaijan, Russia, Central Asia and Europe.
The two sides also discussed the possibilities of a preferential trade agreement between India and the Eurasian Union. 
Both sides stressed on a multipolar world and Putin, it is learnt, said that the geopolitical interests of both India and Russia coincide.
(With agency inputs)