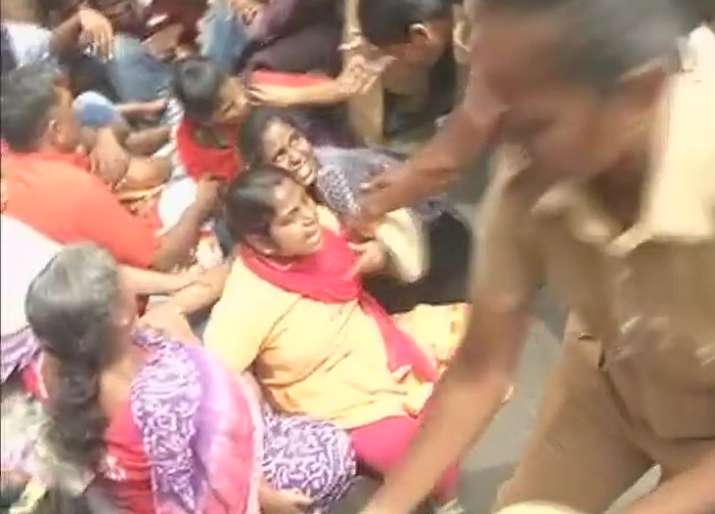 A day after a Ph.D. scholar of Chennai-based Indian Institute of Technology-Madras was allegedly beaten up by some students protesting against the "beef fest" held in the campus on Sunday, students of the prestigious institution today came out in large number to voice their objection to the attack on their fellow student.
A group of 70 to 80 students on Sunday held the beef festival to demonstrate against the Bhartiaya Janata Party-led Central government notification on cattle sale rules. Notably, beef is not banned in Tamil Nadu.
R Sooraj, who is associated with the Ambedkar Periyar Study Circle, was allegedly assaulted yesterday by some students who claimed to be Sangh Parivar supporters, according to the victim's associates.
Chennai: Police removes protesters agitating in front of IIT-Madras against cattle slaughter ban & attack on a IIT-Madras PhD scholar pic.twitter.com/4rcZ7VLpq5

— ANI (@ANI) May 31, 2017
While the IIT authorities on Tuesday night promised appropriate action after inquiry, the police booked eight students for allegedly beating up the PhD scholar.
A student alleged that a group of students who owe allegiance to the "right wing ideology" surrounded Sooraj when he was having lunch in the mess and beat him up this afternoon. He was taken to IIT-M dispensary and later to an eye hospital for his eye injury.
A picture, purportedly that of Sooraj being wheeled into a hospital with a visible injury on his right eye, is doing the rounds in the social media as well.
The student also alleged that on the night of May 28 and the next day, two students - one after the other - who had taken part in the beef fest, were threatened by right wing elements and a complaint was made to the authorities.
Chennai:Revolutionary Students&Youth Front protests agnst cattle slaughter ban&attack on a IIT-Madras PhD scholar for organising 'Beef Fest' pic.twitter.com/5YGQALPSvI

— ANI (@ANI) May 31, 2017
The Environment ministry had last week notified the stringent 'Prevention of Cruelty to Animals (Regulation of Livestock Markets) Rules, 2017' under the Prevention of Cruelty to Animals Act banning the sale and purchase of cattle from animal markets for slaughter.
Meanwhile, opposition DMK is today holding demonstrations in Chennai to protest against the BJP-led Centre.