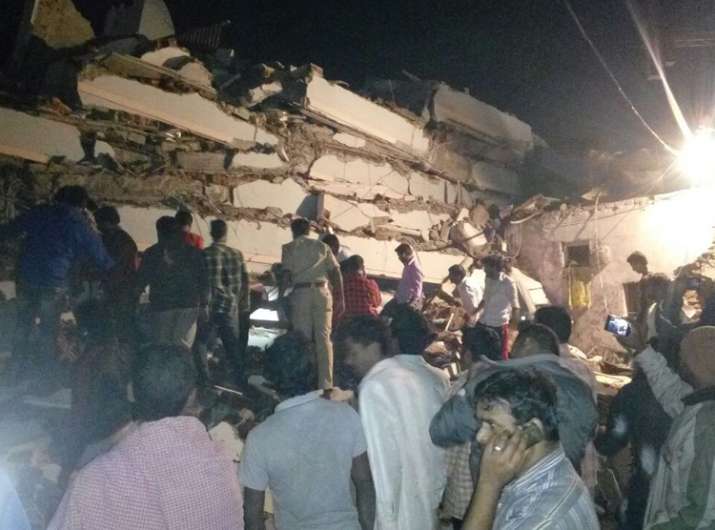 At least two persons were dead and several people are feared trapped as an under-construction building collapsed in Nanakramguda area here on Thursday night. 
About 10 families, mostly labourers, were living in the premises of the building, according to Hyderabad Mayor B Rammohan. 
Telangana Home Minister N Narsimha Reddy and several other leaders and officials rushed to the spot where rescue work is underway. 
Reddy said violation of rules has been noticed in the construction of the building. 
He said that different figures were being given on the number of persons trapped under the debris. 
Rescue operations underway, still 10-12 people are feared trapped: Baba Fasiuddin,Deputy Mayor Hyderabad on building collapse pic.twitter.com/INvL57hSla

— ANI (@ANI) December 9, 2016
State Excise Minister T Padma Rao said the number of persons trapped would be known only after the debris are removed. 
"Unless the slabs are removed, we can not say responsibly. Six slabs have fallen on one another. Neither me nor you can say... It would be known only after the slabs are removed, how many workers are there. Some say six persons have died and some say seven died. Nobody knows how many were there and how many killed, but truth would come out only after the slabs are lifted," he said. 
Seven storey building collapses in Nanakramguda area of Hyderabad. More details awaited pic.twitter.com/n0uDQxYW0G

— ANI (@ANI) December 8, 2016
The immediate priority right now is to remove the debris and ascertaining how many were trapped, he said. 
The government would act tough against those responsible for this tragedy for any violation of rules, the Excise Minister said. 
Expressing anguish on the collapse of the multi-storey building, Chief Minister K Chandrashekar Rao directed ministers from the city to take care of the rescue and relief operation. 
He also directed officials to take the help of NDRF personnel. 
Greater Hyderabad Municipal Corporation (GHMC) Commissioner B Janardan Reddy said no body had been recovered so far. 
Efforts were on to remove the debris and the administrative machinery has been pressed into service, he said. 
"At this stage, it is difficult to say the cause of the collapse," the Commissioner said.