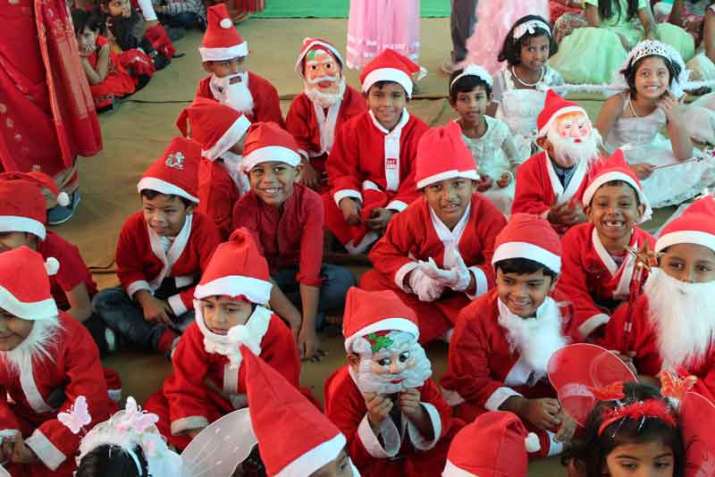 The Uttar Pradesh Police today directed all district police chiefs to ensure that Christmas festivities go smoothly without any untoward incident, two days after the Hindu Jagran Manch warned Aligarh schools against celebrating the festival. 
ADG (Law and Order) Anand Kumar also directed all district police chiefs of the state to ensure the freedom of practising one's religion is protected and appropriate action should be taken in this regard. 
"The Aligarh SSP (senior superintendent of police) and all district police chiefs have been directed to take strict legal action against those indulging in intimidation of any sort," he said. 
This directive comes after the Hindu Jagran Manch, an RSS affiliate, issued a circular on Sunday, threatening the management of all Aligarh schools against celebrating Christmas saying, if they did so, it would be "at their own risk". 
"The circular would be reaching all schools very shortly and we will decide a course of action on receiving their response," Sonu Savita, city president of the Hindu Jagran Manch, told reporters in Aligarh on Sunday. 
Aligarh SSP Rajesh Pandey has, however, made it clear that the district authorities would not allow anyone to force any school not to observe or celebrate Christmas. 
All school managements have been assured that full security would be provided to them on Christmas and no one would be allowed to take law into their own hands, Pandey told PTI yesterday. 
Expressing concern over this, Uttar Pradesh Deputy Chief Minister Dinesh Sharma said that people are free to celebrate their festival, and if someone wants to celebrate the festival of another religion, he has every right to do so. 
Union minister Sripad Naik said that people have been celebrating each other's festivals since thousands of years, which reflects ou culture. He added that issuing such circular will harm the nation.  
Praveen Agarwal, president of the Public School Development Society (Aligarh), said, "Each year we celebrate festivals belonging to all communities and this experience helps our children to play a responsible role as citizens of this country." 
The Manch was in the news last month when it announced its decision to launch a "reverse love jihad" campaign by setting a target of 2,100 Muslim brides for Hindu men in the next six months under a campaign called "beti bachao, bahu lao". 
Last year, the right-wing group launched its "anti-love jihad" and "save Hindu girl" campaign in Uttar Pradesh, where they planned to hold classes in all schools run by its parent organisation to "educate" youngsters about the "ill-effects" of marrying a Muslim.