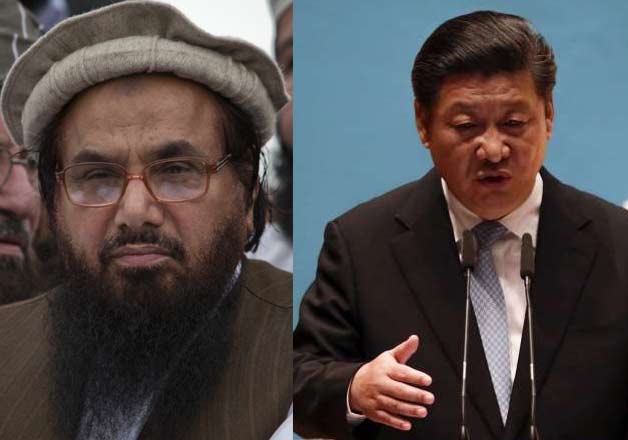 New Delhi: 26/11 mastermind and chief of outlawed Jamaat-ud-Daawa has strongly reacted to Beijing's call to prevent the practice of Islam in China.
Addressing a congregation in Lahore,the hardline Islamist said that it was true that China is Pakistan's all weather friend, but "any comment that hurts our religion, Islam, is not acceptable and we urge the Chinese leadership to take it back."
"By uttering such statements, China is hurting its time-tested relations with the people of Pakistan," said Sayeed.
Saeed announced his plans to meet the Chinese ambassador in Islamabad to lodge his protest.
While guarded in his use of language against China, Sayeed made it clear that Beijing must not take Islamabad for granted by telling its people to desist from practicing Islam.
Saeed has repeatedly targetted India, US,Israel and other western countries but his criticism of China was unsual, given the affable relationhip Islamabad and Beijing shares.
At a recently held National Work Conference on Religion, Chinese President Xi Jinping  warned the Chinese people, especially those living in the Xinjiang province to shun the practise of Islam and to stick to China's state policy of "Marxist Atheism".
Making China's State policy of intolerance towards Pan-islamic tendencies very clear, President Xi warned Chinese citizens "not to confuse themselves with non-CCP approved tendencies" and to "never find their values and beliefs in this religion or any religion.
Among the other warnings issued by him, was one to resolutely resist overseas infiltration through religious means and to guard against ideological infringement by Islamic extremists.
Large parts of the Chinese population living in Xinjiang province are said have become radicalised and Beijing is desperately looking at ways to de-radicalise them.
Xinjiang borders Pakistan from where China says the hardline Islamic teachings flow. China has also been subtly warning Pakistan to stop the flow of Islamic messaging to Xinjiang but to no avail.
Communist Party Officials had strongly backed President Xi's statements and cautioned citizens to be vigilant against Islamic tendencies like Halal products. They made it clear that Halal products will remain banned in China as these "promote religious segregation."
China has already declared 2016 as the "Year of Ethnic Unity and Progress", a move aimed squarely at ridding the nation of Islamic influences.