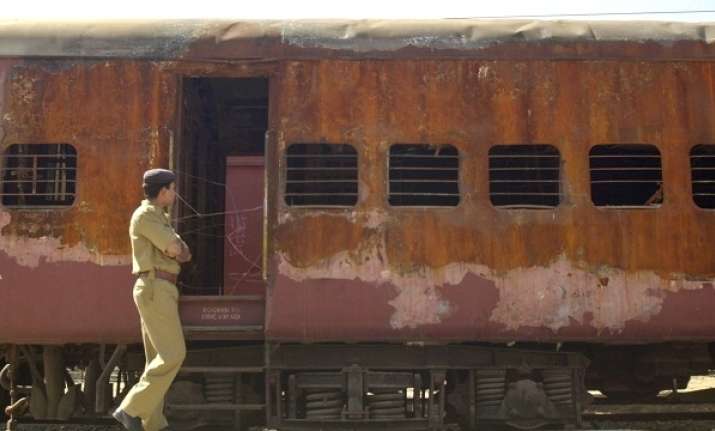 The Gujarat High Court on Monday commuted death sentence of 11 people who were convicted by a special SIT court in the 2002 Godhra train coach burning case to life imprisonment. The high court upheld their conviction and also the life sentence awarded by the special SIT court to 20 others in the case. 
The court also directed the government and railways to pay Rs 10 lakh each to families of those killed in the incident. 
A division bench of Justices Anant S Dave and G R Udhwani of the high court pronounced the judgement on appeals filed by the convicts as well as the prosecuting agency. 
"High Court confirmed conviction of all 31 accused persons. Even High Court has believed the case of conspiracy and unlawful assembly," special prosecutor said. 
As far as law and order is concerned, HC has observed there has been a lapse on part of state Govt and Railway authorities, he said. 
The case pertains to burning of a coach of the Sabarmati Express on February 27, 2002 at the Godhra station. The death of 59 people, mostly 'kar sevaks' returning from Ayodhya, in the coach S-6 of the train triggered massive communal riots in the state that resulted in death of over 1000 people. 
Out of 94 accused, the special SIT court had on March 1, 2011 convicted 31 people and acquitted 63 in the case. While 11 people were sentenced to death, 20 were given life in jail. 
Later, several appeals were filed in the High Court challenging the conviction, while the state government had questioned the acquittal of 63 people. 
The court had convicted 31 people while accepting the prosecution's contention that there was a conspiracy behind the incident. 
All the 31 were convicted under IPC sections related to murder, attempt to murder and criminal conspiracy. 
Those acquitted included the prime accused, Maulana Umarji, the then president of Godhra Municipality Mohammad Hussain Kalota, Mohammad Ansari and Nanumiya Chaudhary of Gangapur, Uttar Pradesh. 
The Nanavati Commission, appointed by the Gujarat government to probe the carnage, had concluded that the fire in the S-6 coach was not an accident, but it was set ablaze in a premeditated manner.
(With PTI inputs)