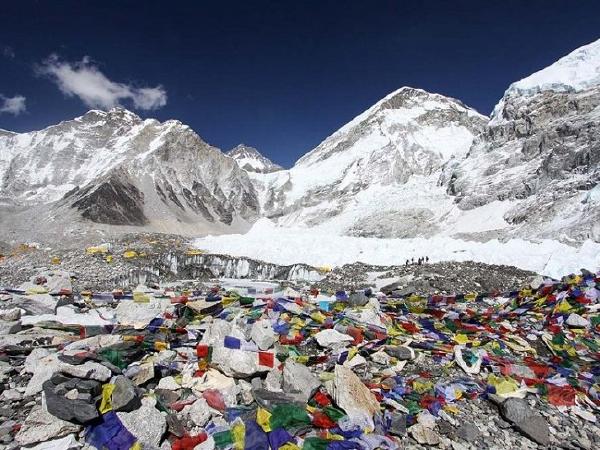 More than 10,000 kilograms of solid waste was collected from Mt. Everest during a first-ever cleaning campaign on the world's highest mountain, Nepalese officials said on Monday.
The campaign, which began on April 14, was aimed at bringing back tonnes of trash from the world's highest peak, which has lately turned into a "garbage dump".
The 45-day 'Everest Cleaning Campaign', led by Solukhumbu district's Khumbu Pasanglhamu Rural Municipality concluded collecting over 10,000 kilograms of garbage, The Himalayan Times reported.
According to Ang Dorje Sherpa, Chairman at the Sagarmatha Pollution Control Committee, the mega Everest clean-up drive was conducted in coordination with the government and non-government agencies for the first time in the history of Everest climbing.
"At least four dead bodies and the rubbish left behind by the world climbers in the high camps of Mt Everest have also been collected during the campaign," Sherpa said.
The month-long cleaning campaign on the world's highest mountain concluded on Monday successfully collecting over 10,000 kilograms of rubbish from the Mt. Everest region, the report said.
According to Sherpa, different teams spent over a month at the Everest Base Camp, Camp II and Camp IV to collect the garbage.
"More than 6,000 kg of waste was collected from the base camp and the high camps," he said, adding that the local community groups also joined hands to keep the Khumbu region clean.
Pasang Nuru Sherpa, one of the members of the cleaning team, said that it was really a tough task as the team struggled hard to collect trash in the high camps.
Major Dipendra Neupane of Nepal Army said that over Rs 23 million was spent to run the campaign.
"The campaign will continue in the coming years."
Every year, hundreds of climbers, Sherpas and high altitude porters make their way to Everest, leaving behind tonnes of both biodegradable and non-biodegradable waste — including empty oxygen canisters, kitchen waste, beer bottles and faecal matter — on the highest peak, which has lately acquired notoriety as the "world's highest garbage dump".
There have been attempts in the past to clean up Everest, including a 2014 government-mandated provision making it mandatory for every climber to come down the peak with at least 8kgs of garbage — the amount of trash estimated to be produced by one climber.
Also Read: Two more Indian mountaineers die on Mount Everest, toll rises to eight