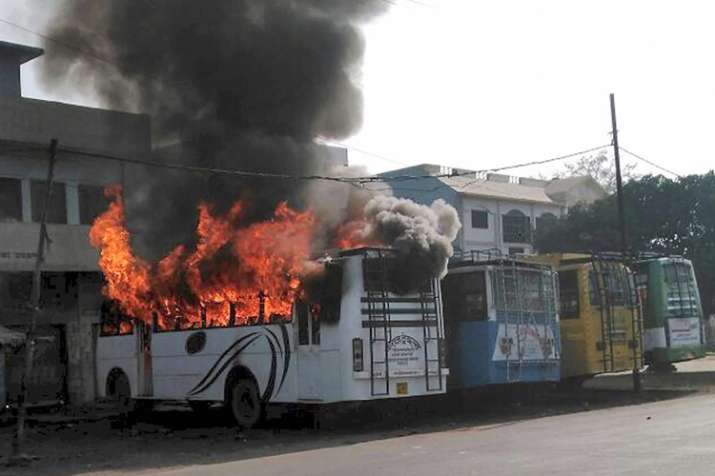 In a fresh round of violence in western Uttar Pradesh's Kasganj on Sunday morning, agitators set a shop on fire, while vandalising a few others.    
Yesterday, people returning from the cremation of the person killed in communal clashes on Republic Day, set a few shops on fire, and vandalised few vehicles, along with setting ablaze two buses. 
The reported violence took place despite the administration imposing Section 144 in the city, after communal clashes on Republic Day which left a person dead, and another critically injured. 
At least 49 people were arrested, and internet services have been suspended till 10 pm on January 28 in trouble-torn areas in western UP, where a curfew was imposed after clashes yesterday, to prevent spread of rumours on social media.
A strong posse of RAF and PAC personnel have intensified vigil in the district, whose borders have been sealed to stop elements detrimental to peace from sneaking into the city.
The police's drone camera team was also requisitioned from Aligarh to help the police keep a watch on sensitive areas of the town.
Elaborating about the extent of damage, Additional Director General of Police (Law and Order) Anand Kumar told PTI, "In all, three shops have been damaged, by pouring petrol below the shutter and setting it afire. Fire was also set on the seats of two private buses, but the engine of the buses are intact. One empty kiosk was also set ablaze by the anti-social elements. In the evening, the seats of an abandoned car were set ablaze."
Elaborating on the genesis of the clashes, the police said in a statement that a few people were riding motorcycles carrying the tricolours and were chanting 'Vande Mataram' and 'Bharat Mata Ki Jai'. 
As the procession reached minority community-dominated Baddunagar, "anti-social elements" pelted stones and opened fire. "In this (firing), Chandan was killed and Naushad was injured. Naushad was referred to Aligarh for treatment," it said. Another man, identified as Akram, received head injuries. 
The two were undergoing treatment at Jawaharlal Nehru Medical College in Aligarh. Naushad was out of danger and Akram was being operated upon, the hospital authorities said. 
The motorcycle rally was taken out by VHP and ABVP volunteers as part of celebrations on the 69th Republic Day. 
Meanwhile, the police on Saturday stopped firebrand leader Sadhvi Prachi in Aligarh and prevented her from visiting Kasganj. 
She, however, said: "If the district administration really wanted, it would have not allowed the violence."