Flood situation in various parts of India is giving a tough time to residents. Kerala and Karnataka are facing a grim situation as death toll due to floods and landslides triggered by incessant rains climbed to 83.
Rahul Gandhi visited Wayanad, his Lok Sabha constituency, which has been badly hit by the flood. He will tour the Wayanad district on Monday, before returning to Delhi. The former Congress chief had approached Prime Minister Narendra Modi to seek his help for flood-hit Kerala. During his visit, Gandhi also visited a relief camp at Malappuram and Kavalapara, where over 50 people are feared to be trapped under the mudslide. Rescue operations are on.
On the other hand, Union Home Minister Amit Shah along with Karnataka chief minister BS Yeddiyurappa carried out an aerial survey of flood-affected areas in Karnataka and Maharashtra and reviewed the relief operation being conducted to deal with the natural disaster. The incessant rains have wrecked havoc in at least nine states, including Maharashtra, Kerala, Karnataka, Andhra Pradesh, Madhya Pradesh and Gujarat, killing over 100 people and displacing lakhs of others.
Floods in India: Live Updates:
10:30 pm: Death toll in Kerala Floods rises to 72. While 58 people are missing.
10:13 pm: Rahul Gandhi held a meeting with local officers at Collectorate Office in Malappuram, Wayanad, to review the flood situation in the constituency.
09:49 pm: 
09:27 pm: 
09:02 pm: Aircraft assets of South Western Air Command continued High Availability Disaster Recovery missions in Kolhapur today by positioning 1700 kgs of specialist life-saving drugs and medicines along with 22 personnel from Army Medical Corps from Pune airbase by two Avro aircraft.
08:48 pm: Mhaisal village in Sangli facing an acute water crisis. Locals told ANI, "We don't have drinking water since last 8 days. The roads are closed due to flooding. It's Eid tomorrow we don't have enough water, how will we celebrate and manage things?"
08:13 pm: Indian Air Force (IAF) helicopter rescued 125 people stranded on a road that was washed off from two sides at a causeway near Hajipir in Kutch, Gujarat.
07:56 pm: Nine dead bodies recovered from the debris of a landslide during a rescue operation in Putthumala area of Wayanad district.
07:35 pm: Two rescue missions were flown by SWAC helicopters late evening today from Ballabha village in Jamnagar district.  14 people were picked up by Wing Commander UC Vaish, who had to land on a narrow road to rescue them. While Wing Commander Vishal Jain winched up 16 marooned persons from an inaccessible area.
07:09 pm: IAF helicopters of Southern Air Command dropping food packets over the flood-affected areas of Malappuram district of Kerala. Over 1000 Kgs of food items were dropped in multiple sorties by IAF Mi17 helicopters.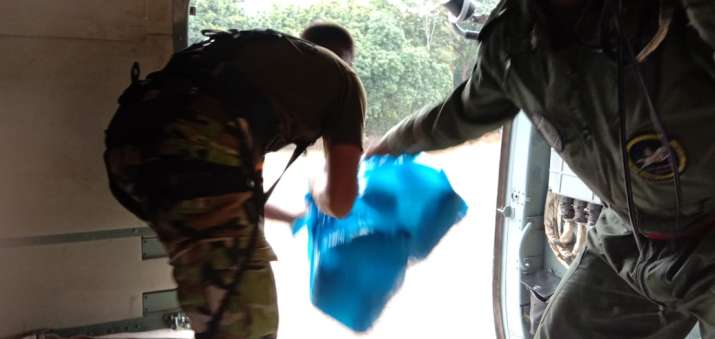 06:47 pm: Maharashtra CM Devendra Fadnavis held a meeting with Chief Secretary, Senior Officials from R&R, Disaster Management department and other concerned officials at Mantralaya Control Room. He took a detailed review of flood situation in the state.
06:12 pm: Indian Air Force helicopter stacked with food material to be distributed in flood-affected regions in Malappuram.
05:39 pm: Union Home Minister Amit Shah today conducted an aerial survey of flood-hit areas of Belagavi district. Karnataka Chief Minister BS Yeddyurappa was also present.
05:16 pm: Rahul Gandhi reached at a relief camp in Boodanam Church in Nilambur, Malappuram. He met flood-affected people. He is in his Lok Sabha constituency, Wayanad, to review the flood situation.
04:58 pm: Incessant rainfall in Malappuram causes landslide at Kavalappara. National Disaster Response Force, Fire and Rescue Department and Forest Department officials engaged in search and rescue operation.
04:37 pm: Rashtriya Swayamsevak Sangh (RSS) set up a relief camp in Sangli district to distribute food packets to people in the flood-affected area.
3:45 pm- Rahul Gandhi begins his Kerala visit to review the situation in flood-hit Wayanad
Rahul Gandhi has begun Kerala visit to visit Wayanad which also is his parliamentary constituency.
02: 30 pm: NDRF's out rescue operations in Wayanad in Kerala
01:45 pm: IAF Mi-17 rescued 6 people stranded near Narayanpur Dam, Raichur district, Karnataka. A pregnant woman in need of medical aid was attended to by an IAF medical officer on-board the helicopter and later transferred to a hospital on landing.
01:14 pm: Flight operations from the Kochi international airport have been resumed.
12:55 pm: With the recovery of five more bodies, the death toll in the boat capsize tragedy in Sangli district has gone up to 17. As many as four lakh people have so far has been evacuated from flood-affected parts of Maharashtra.
12:30 pm: Pruthviraj Jadeja, a Gujarat police constable carries two children on his shoulders for over 1.5 km in floodwaters in Kalyanpar village of Morbi district, to safety.
12:14 pm: 60 deaths have been confirmed till today in the state, says Kerala Chief Minister Pinarayi Vijayan
12:00 pm: Due to Heavy Rain & water logging following trains were cancelled, short terminated, and rescheduled in Gujarat
11:45 am: Water-level in Tamil Nadu's Hogenakkal waterfall increases after water is released from Krishna Raja Sagara dam in Karnataka.
11:20 am: Incessant rains in the Kolhapur region has led to damage to property; villagers in Shiroli collect water as floodwaters begin to recede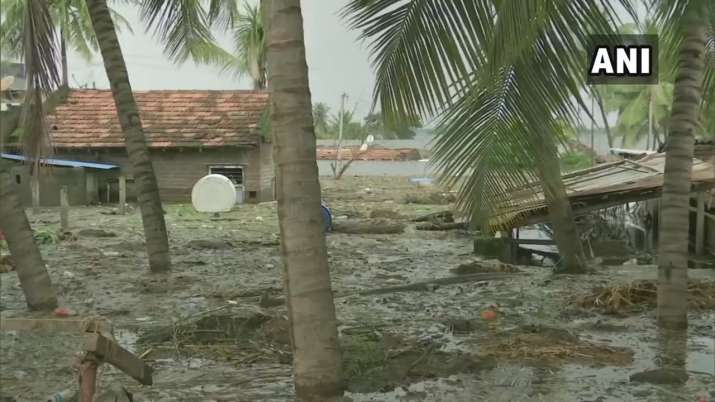 10:40 am: Flood-water receding in Shiroli village, in Kolhapur district, relief operations underway
10:11 am:  National Disaster Response Force (NDRF) personnel carry out rescue & relief operations in Sangli district
09:39 am: Due to flooding, landslides and trees & boulders falling on railway tracks caused by heavy rains, and consequent disruption of rail traffic, following changes have been made in train services in Kerala.
09:27 am: Helpline numbers for Ahmedabad Division are:
09:15 am: Odisha Special Relief Commissioner on Saturday wrote to District Collectors of Bolangir, Gajapati, Kalahandi, Kandhamal, Koraput, Malkangiri, Nawarangur, Rayagada and Sambalpur to submit an assessment report by Aug 17 on damage to private properties due to recent flood and heavy rainfall. Instructions have also been issued to various government departments to submit a report on the assessment of damage to public properties due to recent flood and heavy rain within a week.
08:49 am: 9 bodies recovered from the landslide at Kavalapara in Kerala's Malappuram district. Around 63 people still missing in the area. Rescue operations are underway.
08:32 am: 37 rescue teams have been deployed in Maharashtra's worst hit Sangli. 95 boats, and 569 personnel on duty.
08:31 am: 48 rescue teams deployed in Maharashtra's worst hit Kolhapur. 74 boats, and 456 personnel on duty
08:30 am: Union Home Minister Amit Shah will do an aerial survey of the flood affected areas of Belagavi district, Karnataka today. 
08:00 am: Due to heavy rain & water logging in Kerala & Ahmedabad division, Train no. 19261 Kochuveli-Porbandar Exp of 11.08.2019 is cancelled, Western Railway tweets
07:35 am: Rail services disrupted, train cancellations reported in Gujarat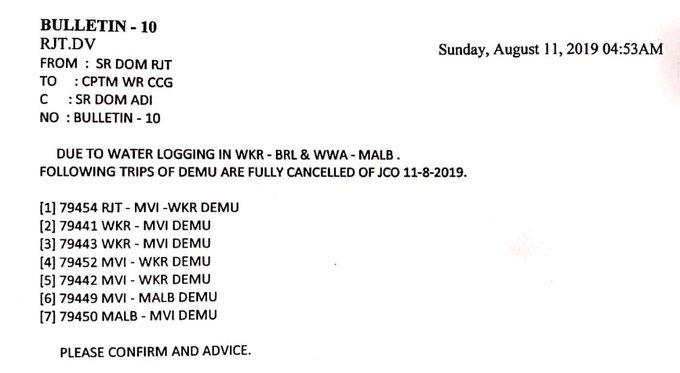 07:13 am: Indian Air Force (IAF) personnel rescue a girl in flood affected Jamnagar, Gujarat. 
07:10 am: Spillway Gates of Banasura Sagar Dam in Kerala's Wayanad were opened, yesterday. 
07:07 am: Congress leader Rahul Gandhi will visit his Lok Sabha constituency Wayanad today.
07:00 am: India Meteorological Department (IMD) issues a red alert for three districts on Sunday -- Wayanad, Kannur and Kasaragod.