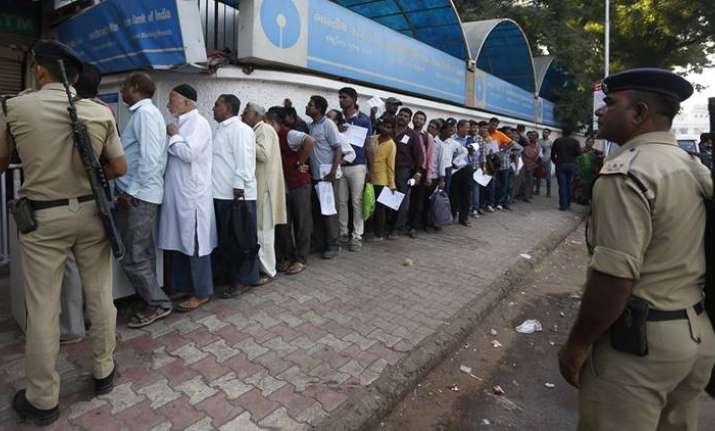 A 73-year-old man died while standing in a queue to exchange Rs 500 and Rs 1,000 denominations in suburban Mulund this afternoon, police said.
Vishwanath Vartak, a senior citizen, was standing in a queue outside a branch of the State Bank of India in Navghar area of Mulund (East) to exchange his notes when he suddenly fell down at around 1.30 PM, they said.  
As he fell, some people, who were also in the queue, rushed him to a nearby hospital where he was declared dead before admission, police said adding that the body has been sent for postmortem.
Police also visited the spot where the elderly man collapsed.According to initial reports, Vartak died of a heart attack, police said.
Following the government's decision to scrap the Rs 500 and Rs 1,000 notes, there has been a huge rush outside the banks since yesterday and also at the ATMs today residents anxious to withdraw some money to meet their daily expenses were seen standing in serpentine queues.
Police patrolling is being done and beat marshals are deployed outside the banks and the ATM centres to avoid any untoward incident and control the crowd wherever necessary.
(With inputs from PTI)