Follow us on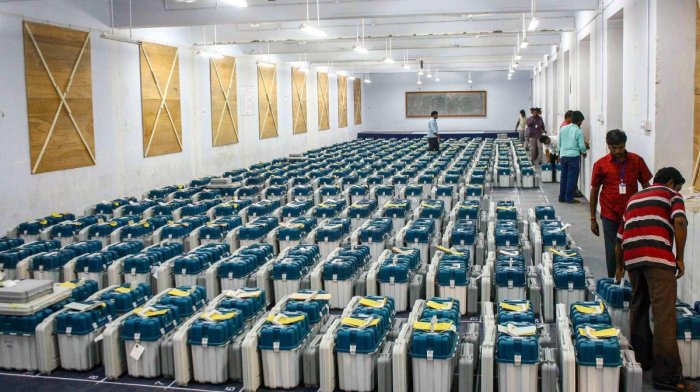 The Election Commission of India (ECI) on Tuesday rubbished reports of EVMs being transported without security in parts of Uttar Pradesh and Bihar.
Few incidents of EVMs being transported without any security have been reported in EC strongrooms in Uttar Pradesh and Bihar after the voting wrapped up for the Lok Sabha polls.
To this end, the poll panel said that, in Ghazipur, there was an issue regarding "watch on polled EVM strong room by the candidates" which was resolved by conveying the EC instructions.
"In Chandauli," the poll body added, "EVMs were in proper security and protocol."
"In Domariaganj, EVMs were under proper security and protocol. The agitation was unnecessary. The matter is resolved now. As far as Jhansi is concerned, EVMs are under proper security and protocol in presence of political parties candidates. There is no issue," the election commission added.
EC clarified that in all cases, polled EVMs and VVPATs were sealed properly in front of parties' candidates and were videographed.
"CCTV cameras were installed. CAPF security were there. Candidates were allowed to have watch on strong room at a time and one representatives of each candidates 24×7. Allegations are baseless," the poll panel added.
The Chief Electoral Officer of Uttar Pradesh said that polled EVMs were safe in the sealed strong rooms which are under surveillance and also urged people to keep faith in the poll commission.
"Polled EVMs are safe in sealed strong rooms under security, CCTV coverage and surveillance of candidates. There is no possibility of changing EVMs. Don't panic and keep faith," the official handle of CEO, Uttar Pradesh tweeted on Tuesday.
Shiv Sahay Awasthi, District Election Officer Jhansi, said, "Some polling parties arrived late, however, all EVMs were put in place in the strong room by 7 am. The strong room has been sealed in presence of general observers and candidates under CCTV surveillance."
Earlier, Afzal Ansari, the BSP candidate in Ghazipur, sat on a protest outside the strongroom where EVMs were kept to prevent them from being transported out in a vehicle.
In a video of the incident, Ansari and his supporters late on Monday were seen engaged in a heated argument with a police officer.
Ansari, who is the brother of mafia don and legislator Mukhtar Ansari, said that according to reports, similar incidents have been reported from other constituencies in Uttar Pradesh and Bihar.
He said that he and his supporters would take turns to keep vigil outside the strongroom because he had no faith in the district administration.
Jangipur legislator Dr Virendra and Jakhania legislator Triveni Ram have also announced their support to Ansari and criticised the movement of EVMs.
In Mirzapur, Congress candidate Lalitesh Pati Tripathi has sent a letter to the poll observer questioning the presence of 'additional EVMs' in the strongroom.
It may be recalled that two weeks ago, a similar movement of EVMs was reported from Amethi and the district administration claimed that 'unused' EVMs were being sent to places where polling had not yet taken place.
(With inputs from agencies)
WATCH: Mahagathbandhan candidate Afzal Ansari clashes with police over EVM in Ghazipur