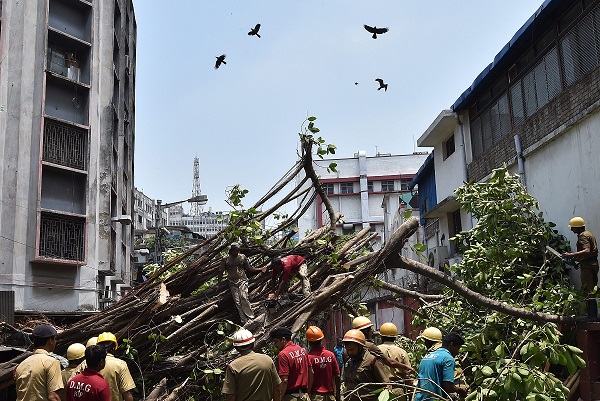 Over 100 people were killed and several others injured as a heavy dust storm wreaked havoc in several parts of western and northern India with Uttar Pradesh and Rajasthan worst-hit on Wednesday. Another dust storm may also hit parts of Uttar Pradesh and Rajasthan again in the next 48 hours due to cyclonic circulation formation in the region, adding to the miseries.
While 64 have died in Uttar Pradesh, there have been 35 deaths in Rajasthan, 2 each in Uttarakhand, Punjab and Madhya Pradesh. The powerful dust storm has also left over 100 injured.
According to UP government officials, 64 people were killed in four districts of western Uttar Pradesh, including 36 in Agra, three in Bijnore, two in Saharanpur and one each in Bareilly, Raibareli, Unnao and Chitrakoot. 
The local authorities in each of these areas have issued directions to provide immediate relief and carry out a thorough and full assessment.
Chief Minister Yogi Adityanath, who is campaigning for the BJP in Karnataka, has told officials to ensure rescue and relief work in the worst hit Agra, Bijnore, Bareilly, Unnao, Saharanpur, Pilibhit, Firozabad, Chitrakoot, Muzaffarnagar and Rae Bareli districts.
In Rajasthan, a powerful dust storm hit Alwar, Dholpur and Bharatpur districts, killing 35 people and injuring another 100.
The storm, with a wind speed of 100 km per hour, uprooted trees, severed telephone, power and water supply links and brought down houses, officials said.
For the first time in the state, a storm has been included under the category of natural disaster and funds to the tune of Rs 2.5 crore have been sanctioned for each district, Kataria said.
The exact level of damage in Alwar, Jhunjhunu and Bikaner was yet to be confirmed, said officials. 
Bharatpur's Additional District Magistrate O.P. Jain told IANS: "We are making all efforts to ensure that the injured are given medical aid. 
"We have prioritized restoration work so that drinking water and electricity get restored."
Dholpur Additional District Magistrate Harphool Yadav said 10 people in the district have lost their lives. "Quick response teams have been deployed since last night."
A senior official in Alwar said rescuers were still trying to reach out to people to know the exact level of damage. As phone connections have been severed, it was difficult to contact the interiors. 
Yadav said that some 200 people were stuck in village Lebdapura Basedi after their houses were gutted in a fire. 
Several electrical poles came down, disrupting power supply. The falling trees and electric poles caused the maximum accidents, leaving almost 100 people injured, Yadav said.
Both Bharatpur and Alwar were without power through the night.
Chief Minister Vasundhara Raje directed the officials on Thursday to help the injured. "Distressed after storm in Alwar, Bharatpur and Dholpur," she tweeted.
The Met department said the storm condition would continue till Saturday in Rajasthan. 
Uttar Pradesh's regional Met office also warned of a second spell of dust storm in many districts of Uttar Pradesh, following which an alert has been sounded by the government.
According to a letter from regional Met Director J.P. Gupta to the Relief Commissioner, thunderstorms accompanied by gutsy winds were very likely in Gorakhpur, Ballia, Mau, Ghazipur, Ambedkarnagar, Sant Kabeernagar, Basti, Kushinagar, Maharajganj, Siddharthnagar, Gonda, Balrampur, Sharawasti, Sitapur, Bahraich, Kheri, Shahjahanpur, Pilibhit, Rampur, Bareilly, Budayun, Aligarh, Etah, Mahamaya Nagar, Mathura, Noida, Bulandshahr, Moradabad, Meerut, Muzaffarnagar, Bijnore and Baghpat.
Massive rains were also expected in some places. 
Another dust storm may hit parts of Uttar Pradesh and Rajasthan in the next 48 hours due to cyclonic circulation formation in the region, a MeT official said today.
The warning came even as the two north Indian states were reeling under the impact of a severe overnight dust storm that killed nearly 100 people and left a trail of destruction.
"There is a high probability that winds will intensify in the next 48 hours in Rajasthan, which may lead to another dust storm. It will affect areas of Uttar Pradesh and Rajasthan border, especially Karauli and Dholpur," Indian Meteorological Department (IMD) scientist Himanshu Sharma told PTI here.
Satellite images have shown wind pressure developing in parts of Rajasthan, which may lead to high intensity winds and dust storm.
The meteorological department has warned that a dust storm, rainfall or thunderstorm may occur at some areas in Bikaner, Alwar, Bharatpur, Dholpur, Karauli, Jhunjhunu, Swai Madhopur, Sikar, Sriganganagar and Jaisalmer districts.
Sharma said the department had issued warnings in the last couple of days about a dust storm in Rajasthan.
PM Modi 'saddened by loss of lives' in powerful dust storms
Prime Minister Narendra Modi expressed sorrow over the deaths and directed officials to coordinate with states to ensure speedy relief and rehabilitation. 
"Saddened by the loss of lives due to dust storms in various parts of India. Condolences to the bereaved families. May the injured recover soon," the Prime Minister's Office tweeted quoting Modi.
Saddened by the loss of lives due to dust storms in various parts of India. Condolences to the bereaved families. May the injured recover soon.

Have asked officials to coordinate with the respective state governments and work towards assisting those who have been affected: PM

— PMO India (@PMOIndia) May 3, 2018
WATCH FULL VIDEO: