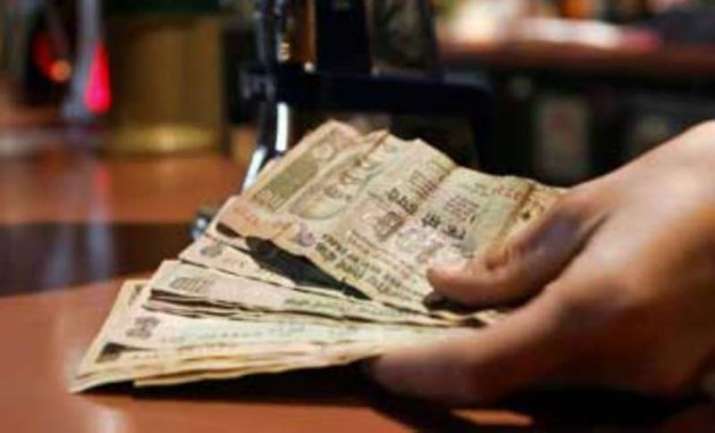 Prime Minister Narendra Modi's 'demonetisation' move has shocked a number of corrupt government officials who had stashed 'black money' in their homes and other places.
They claim to be feeling betrayed by the Narendra Modi-led government for 'demonetising' high-denomination notes.
What is surprising is that some of them even claim that bribe is not a taboo in government job and that taking bribe, in fact, is a necessity.'
Let's take the case of this UP engineer who was in the middle of his evening meditation session when a colleague called and told him to turn on the television. The Prime Minister was saying most of India's cash would hold no value by morning.
The objective was to rid the country of illegal "black money" for which taxes had not been paid. Money often associated with illegal activity such as bribery. Money like the 4.8 million rupees ($70,000) stashed in a steel trunk, under a makeshift settee, in the engineer's bedroom.
"For first few minutes I could not understand," the engineer said, speaking to the Associated Press on condition of anonymity for fear of prosecution.
The engineer, employed by the public works department of Uttar Pradesh, and many of his colleagues had amassed piles of cash by taking bribes for public contracts — a practice so common it has become accepted by many as part of the price of doing business in India. They felt confused — even betrayed — by the government cracking down.
"A bribe is not a taboo in a government job," the engineer said.
Modi, in his November 8 televised address, announced the demonetization of Rs 500 and Rs 1,000 notes, which made up 86 percent of the country's currency. He said it would wipe out rampant corruption, though in a country of 1.3 billion where most people don't have bank accounts, it also wiped out legally collected savings.
"With this decision we have, in one stroke, hit at the root of the sources of corruption," finance minister Arun Jaitley said a day after Modi announced the demonetization. "We have freed up the country from these sources of corruption."
Demonetized currency can be deposited in banks, but immediate access to those funds is severely limited and the government said it will severely penalize those who deposit amounts that don't match their income. Anyone depositing more than 250,000 rupees ($3,700) over the next two months will be flagged for tax inspection.
On the phone with friends, the engineer said, "I sensed desperation in their voices. I knew they also had bribe money" in amounts high enough to raise red flags.
Did he feel shame, or guilt? No.
"Taking this extra money as commission is a necessity" just to meet expected payments and to advance in one's field, he said while calmly sipping whisky and adjusting the light from an overhead chandelier by remote in his home in Lucknow.
Each festive season, he said he's expected to offer costly gifts like wristwatches, fine suits and gold pendants to his superiors, and even their sons. "One needs to keep them happy. ... but would you expect me to give a gift from my salary? No, never."
The engineer said the bribes he accepts are most often already written into price estimates for projects like road construction as a so-called commission. "You do not have to ask for it," he said.
Illicit money changes hands at nearly every project stage, from the public tender to completion. Almost everyone benefits from the "commissions," from the highest ministers to the rank and file, he said.
"What I get as bribe is nothing compared to what others take," he said, noting the palatial homes near his more modest house in an up-market Lucknow neighborhood. "I have a small hatchback car while others roam around in sedans and SUVs. Don't our superiors notice this?"
Graft in India is so accepted that it is out in the open. On September 4, another Uttar Pradesh bureaucrat named Ashok Kumar told reporters in the town of Basti, southeast of Lucknow, that he was giving up on becoming a district magistrate because he did not have 7 million rupees ($103,000) to pay the bribe. Kumar was suspended from his job in the National Integration Department after making the statement, though he never revealed who would have been taking that bribe.
The fight against corruption has been frustrating for retired bureaucrat SP Singh, who spent more than 30 years in India's civil service trying to rid government departments of graft.
"The tendency to take bribe stems from a desire to have best in life," he said. "The lure of lucre is so intense."
Part of the problem, he said, was that politicians were in cahoots with bureaucrats to keep bribery schemes secret. "A bureaucrat helps an illiterate politician in making money by bending rules. Acting as conduit, he ends up thinking, if a minister can make money why not he," Singh said. "The rot has set in."
On Tuesday, Modi lambasted critics of the demonetization drive by saying they want graft to continue.
(With AP inputs)