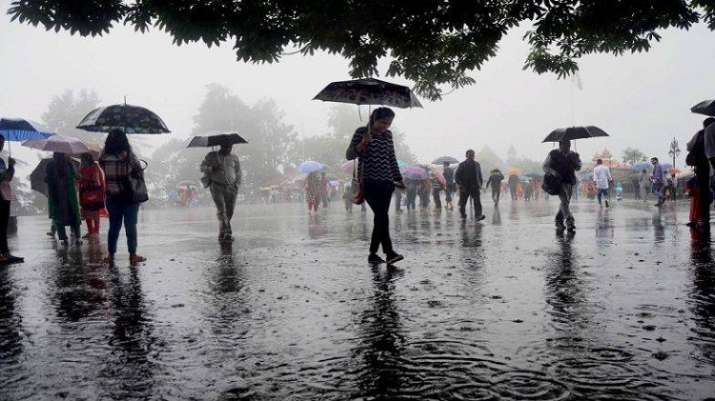 Winter in the national capital is likely to be extended for another four to five days as Delhi is expected to receive spell of rainfall till Monday, the Indian Meteorological Department (IMD) said on Saturday. The maximum temperature in the city was declined to 19.3 degree Celsius, eight notches below the season's average after Delhi received 2 mm rainfall till Saturday evenning. The minimum temperature was recorded at 13 degree Celsius, at par with the season's average.
Drizzling was witnessed in some parts of the national capital region even early on Sunday. 
Commenting on the weather situation, an IMD official said, "Overcast conditions with light to moderate rain and thunderstorm accompanied by hailstorm, lightning and strong surface winds are expected to occur till March 4."
He added that there is a possibility of lightning and hailstorm on Sunday evening. The maximum and minimum temperatures on Sunday would be around 22 degree Celsius and 13 degree Celsius, respectively.
According to Mahesh Palawat, Director at private weather forecasting agency Skymet, Delhi will face an extended winter season till March 6 due to the cold winds.
He said the major reason behind the prolonged winter this season was frequent and intense western disturbances. However, he added that this is the last cold spell of the season.
The city had faced similar kind of weather on March 2, 2015 when the maximum and minimum temperatures were recorded at 19 degree Celsius and 16 degree Celsius, respectively.
On Friday, the maximum temperature settled at 24.1 degree Celsius, three notches below the season's average, while the minimum was recorded at 6.8 degrees Celsius, six notches below the season's average. 
Meanwhile, fresh snowfall was witnessed in higher reaches of Uttarakhand on Saturday,  while the lower areas were lashed by heavy rains, the MeT department said.
Dehradun and adjoining hill resort of Mussoorie continued to receive rainfall, bringing the temperature down considerably.
Kedarnath, Badrinath and Auli in Garhwal, along with Munsiyari and other nearby areas in the Kumaon region also received snowfall.
Snowfall and rain have added to chill all over the state. Cold winds blowing from the hills swept the plains, which also received showers in varying degrees, the Meteorological Department said.