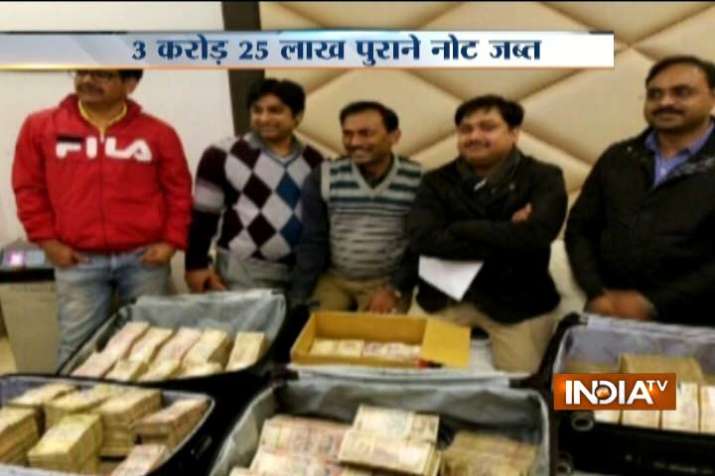 In a joint operation, Income Tax department and crime branch raided a hotel in Delhi's Karol Bagh and recovered Rs 3.25 crore in demonetised notes from five persons.
Based on secret information, the Crime Branch conducted a joint raid with Income Tax officials late last night at Taksh Inn in Karol Bagh and found five persons in two rooms of the hotel carrying a total amount of Rs 3.25 crore, said Ravindra Yadav, Joint Commissioner of Police (Crime).
The five men are carriers and have been identified as Ansari Abuzar, Fazal Khan, Ansari Affan, Ladu Ram and Mahaveer Singh, he said.
The recovered amount was kept in different suitcases and cardboard box.It was found during interrogation that the money belongs to some Mumbai-based hawala operators, said the officer.
According to police, specialists were hired to pack the notes so that the money could not be detected by airport scanning machines. The tapes and wires that were used were also meant to cheat X-ray machines, the police say.
"They had hired packaging specialists who pack these notes in such a manner that they are even undetectable by airport scanning machines. Experts in packaging are using some tapes and wires which pass through X-ray," he said.
The Income Tax department has seized the cash and is analysing the mobile phone details of these people since their phones contain details of lot of other hawala operators, he added.
Recently, customs officers at the Delhi airport caught a couple returning from Bangkok, who were trying to smuggle 16 kg gold in diapers.
The raids are being conducted by the Income Tax department in consonance with the government's drive to flush out black money in the wake of demonetisation of old Rs 500 and Rs 1000 currency notes.