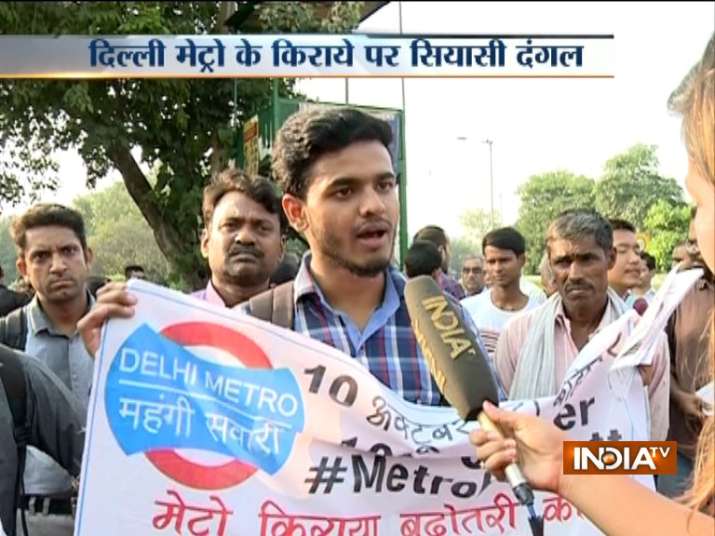 Delhi Metro on Tuesday steeply hiked its fares, the second time this year, igniting mostly negative reviews from commuters amid some confusion over the hike.
Angry commuters staged protest demanding immediate rollback of fare hike.
Barring the minimum fare of Rs 10 for a distance of 0-2 km, which will remain the same, fares were hiked for all other slabs.
Accordingly, the fare now is Rs 10 for up to two km, Rs 20 for 2-5 km, Rs 30 for 5-12 km, Rs 40 for 12-21 km, Rs 50 for 21-32 km and Rs 60 for a ride beyond 32 km.
Ravi Ranjan, who travels daily between Malviya Nagar and Noida Sector 16, used to pay Rs 32 for one-way ride. "But today I ended up paying Rs 45 which is Rs 13 more," Ranjan told IANS.
Similarly, Aroonim Baruah, who travels daily from Noida City Centre to his office in Sector 16, used to pay Rs 13.5 during peak hour travel. And on Tuesday, he said, Rs 27 were deducted from his smart card.
This is the second hike by Delhi Metro in the last six months when DMRC raised the fare by Rs 20 in May and announced that fares will be revised again in October.
The latest increase drew strong reactions from commuters, with some saying they would consider alternative public transport.
"The hike is not fair. Who will be happy with such a steep rise, that too twice in a year," said Ajay, a 40-year-old finance sector employee who commutes from Paschim Vihar to Rajiv Chowk.
"It has almost doubled. Till yesterday, I was charged Rs 27 and today I shelled out Rs 40 for the same distance," he said.
Arvind Tripathi, 28, who works for a Japanese firm, said: "I paid Rs 60 today from Bata Chowk to Rajiv Chowk. This is not a good thing. Metro may be incurring losses but who isn't?"
Another commuter, Sushant, a theatre artist, was also unhappy. He said the hike was not justified as there is no improvement in the services.
The fare hike was approved by the Fare Fixation Committee of three members, one each from the Delhi and central governments, and the third, a retired High Court judge.
Delhi's Aam Aadmi Party (AAP) government staunchly opposed the move calling it anti-people.
It declared a 'Metro Fare Satyagraha' at all Metro stations at 4 p.m. on Wednesday that would continue on Thursday and on Friday at 12 noon when AAP workers will lay siege to the Union Urban Development Ministry housed in Nirman Bhavan here.
The Akhil Bhartiya Vidyarthi Parishad (ABVP), the RSS-student wing, staged a demonstration outside the Metro Bhawan here, demanding the roll back of the hike or the issuance of a metro pass on lines of DTC bus pass for students.
Over 56% women to look for less safer, cheaper transport, says survey
More than 65 per cent of women in the national capital would be forced to look for less safer and cheaper modes of transportation in the wake of metro fare hike, reveals a survey by the Delhi Commission for Women. 
Also, 96.98 per cent of the women want the Delhi Metro Rail Corporation (DMRC) to immediately roll back the fare hike. 
During the survey, conducted today, the Commission spoke to 2,516 women outside 36 metro stations in the city. 
"68.68 per cent of the women stated that they would be forced to adopt less safer modes of transportation or would be forced to travel less frequently and won't be able to use the metro as frequently as earlier," the Delhi Commission for Women (DCW) said in a statement. 
The survey revealed that around 61.57 per cent women said they would face severe issues in managing their household expenses following the fare hike. 
The DCW had sought a detailed report from the DMRC last month and as per the reply it was observed that the DMRC "miserably failed" to increase revenue generation capabilities from alternate sources and moreover it had not yet incurred any losses, and all losses were only projected, the statement said. 
In an earlier letter to Union Minister of Urban Affairs Hardeep Singh Puri, the DCW had apprised him of the gaping loopholes in the fare hike recommendation report and had asked the Centre to roll back the fare hike. 
However, the DMRC went ahead with the fare hike despite severe opposition from the state government, it said. DCW Chief Swati Maliwal termed the fare hike a "draconian step by the centre and a highly anti-women measure". 
"At a time when six rapes and several cases of eve-teasing and harassment are reported each day, the metro fare hike has forced women to go back to less safer modes of transportation," Maliwal said.